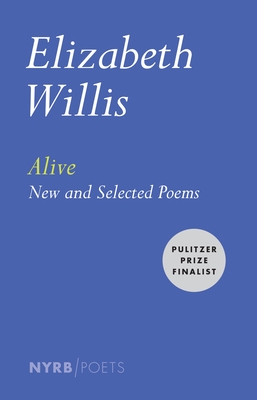 Alive
New and Selected Poems (NYRB Poets)
Paperback

* Individual store prices may vary.
Description
Finalist for the 2016 Pulitzer Prize in Poetry

American poet Elizabeth Willis has written an electrifying body of work spanning more than twenty years. With a wild and inquisitive lyricism, Willis—"one of the most outstanding poets of her generation" (Susan Howe)—draws us into intricate patterns of thought and feeling. The intimate and civic address of these poems is laced with subterranean affinities among painters, botanists, politicians, witches and agitators. Coursing through this work is the clarity and resistance of a world that asks the poem to rise to this, to speak its fury.
Praise For Alive: New and Selected Poems (NYRB Poets)…
"Willis offers the penetrating musings and sometimes fragmented syntax of a contemporary Emily Dickinson but can feel like a spirited surrealist...Starting stringently and getting richer with cultural and political references as it proceeds, this Selected offers gems from five collections and culminates in a dozen new or uncollected pieces. Grab it." —Library Journal, starred review

"More people should be reading Elizabeth Willis, one of our most gifted and historically attuned poets." – Jennifer Chang, Los Angeles Review of Books

"Willis's poetry offers a site where the lyrical and social collide in productive ways, where epiphany is short-circuited just as it is about to 'transcend' experience, where the political runs aground on, against, implacable language, implacable 'experience.'" – Tyrone Williams, Bird Dog

"An amazing collision of the vulnerable and the mighty, the perishable and the explosive, the mundane and the cosmic." – Stefania Heim, Boston Review

Praise for The Human Abstract
 
"These poems move with an uncanny precision to sound thought and the body it makes manifest. No one speaks more clearly in such subtle webs of feeling. Nor is there any other who can so bring us home. Elizabeth Willis is a master." —Robert Creeley
 
"The Human Abstract returns the abstract to the essence of language, reviving our ears to the essential music of our humanity. In this music, we begin to construct for ourselves a dwelling made of incidents whose origins are as near as Sappho's celebrated fragments, Dickinson's wonderful prisms. In this collection, Elizabeth Willis recovers the originating lyric impulse into a haunting contemporary song. This is poetry of amazing intelligence and grace." —Ann Lauterbach
 
"Dislocating the self's topology, Elizabeth Willis's mysterious poems emerge as shattered musical phrases, brilliantly in and out of key, exactly scored—meaning to sound the alarming tick and wobble of she who is born into the world at this historic moment. Her wary foot enters the room, her ear gathers its signals cunningly, and she's gone. We follow, compelled by this urgent hermetic reading of human event, fastened to her sorrow and appetite." —Kathleen Fraser
 
Praise for Turneresque
 
"Indulging in the quintessentially poetic art of associating things that have never been found together before, Willis...here combines the haunting luminosity of English painter J. M. W. Turner with the lucid black-and-white of American film noir, along with the darkly visionary poetry of Rimbaud, Blake and Baudelaire." —Publishers Weekly
 
"Affirmative, even jocularly courageous. It seems—to borrow one of its own phrases—'to imply or intone the whole possibility of human sun.' "—Cole Swenson, Rain Taxi
NYRB Poets, 9781590178645, 208pp.
Publication Date: April 14, 2015
About the Author
Elizabeth Willis is the author of Address (2011), which received the PEN New England/L. L. Winship Prize, and four previous books of poetry. Her second book, The Human Abstract (1995), and her collection Alive: New and Selected Poems was chosen as a finalist for the 2016 Pulitzer Prize in Poetry. A recent Guggenheim fellow in poetry, she teaches at the University of Iowa Writer's Workshop.