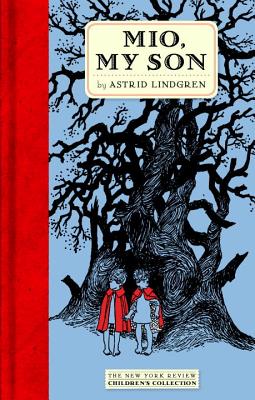 Mio, My Son (Hardcover)
NYR Children's Collection, 9781590178706, 184pp.
Publication Date: May 26, 2015
Other Editions of This Title:
Paperback (6/18/2019)
Paperback (12/1/2009)
Paperback (7/1/2007)
* Individual store prices may vary.
Description
Nine-year-old Karl Anders Nilsson is the unwelcome foster child of an uncaring couple. Lonely and neglected, he yearns for simple things, things that many children already have: a warm and loving home of his own, someone to share his sorrows and joys with, and most important, his real father.

Then, on October 15, Karl simply disappears. Where has he gone? (Police are searching for him!) But Karl is far away from chilly Stockholm, in Farawayland, where he has found his father, who is none other than the king of that land. And now Karl faces a truly dangerous mission. Prophecies have foretold his coming for thousands of years. He, his new best friend Pompoo, and Miramis, his wonderful flying horse with a golden mane, must travel together into the darkness of Outer Land to do battle with Sir Kato, the cruel abductor of the children of Farawayland. Only a child of the royal blood can stop him...
About the Author
Astrid Lindgren (1907–2002) was born in Vimmerby, Sweden, and grew up with three siblings on a family farm in the Småland countryside, a setting that later formed the backdrop for many of her books. In 1926 she moved to Stockholm where she found work as a secretary. She did not begin writing until 1944 when, immobilized with a sprained ankle, she began to set down the Pippi Longstocking stories she had invented over the years to entertain her daughter, Karin. Her first book (Britt-Mari Opens Her Heart) was published by Rabén & Sjögren that same year, followed by Pippi Longstocking in 1945. Free-spirited and super­naturally strong in all respects, Pippi was an immediate favorite of Swedish schoolchildren, and her popularity only increased with the tales of her adventures that followed. In 1946, Lindgren became an editor and then the head of the children's book department at Rabén & Sjögren, a role she held for the next twenty-four years, living in Stockholm and spending summers on her beloved island of Furusund in the Stockholm archipelago. After the Pippi series, Lindgren wrote many fairy tales and picture books, in addition to further chapter books, including Seacrow Island (1964; published by The New York Review Children's Collection) and Ronia, the Robber's Daughter (1981). In addition to writing more than forty children's books, Lindgren published and produced plays and screenplays, and was politically active and lobbied successfully for what became the Animal Protection Act of 1988. She received the Swedish Academy's Gold Medal in 1971 for her contribution to children's literature, and the Dag Hammarskjöld Award (1984), Albert Schweitzer Medal (1989), and Right Livelihood Award (1994) for her humanitarian efforts. In 2003 the Swedish government created the Astrid Lindgren Memorial Award in her honor.

Ilon Wikland was born in Estonia and came as a refugee to Sweden in 1944. In 1953, she applied for a job as illustrator at the Swedish publishers Raben & Sjögren, where she met Astrid Lindgren, who had just finished writing Mio, My Son. Wikland is the artist who has illustrated the greatest number of Astrid Lindgren's books. She lives in Sweden.
Praise For Mio, My Son…
"A tale of exquisite and rare beauty." —Saturday Review
 
"Beautifully written...with sensitive illustrations, Mio, My Son is a splendid contribution to the fairy-tale shelf." —Chicago Sunday Tribune

"A charming fairy story that should complement young feelings of love and adventure." —Kirkus Reviews