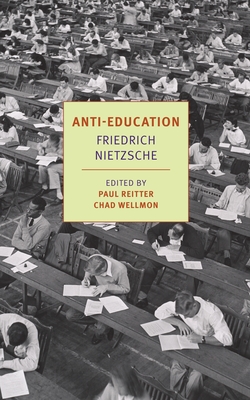 Anti-Education
On the Future of Our Educational Institutions
Paperback

* Individual store prices may vary.
Description
AN NYRB Classics Original

In 1869, at the age of twenty-four, the precociously brilliant Friedrich Nietzsche was appointed to a professorship of classical philology at the University of Basel. He seemed marked for a successful and conventional academic career. Then the philosophy of Schopenhauer and the music of Wagner transformed his ambitions. The genius of such thinkers and makers—the kind of genius that had emerged in ancient Greece—this alone was the touchstone for true understanding. But how was education to serve genius, especially in a modern society marked more and more by an unholy alliance between academic specialization, mass-market journalism, and the militarized state? Something more than sturdy scholarship was called for. A new way of teaching and questioning, a new philosophy . . .

What that new way might be was the question Nietzsche broached in five vivid, popular public lectures in Basel in 1872. Anti-Education presents a provocative and timely reckoning with what remains one of the central challenges of the modern world. 


Praise For Anti-Education: On the Future of Our Educational Institutions…
"Nietzsche does not belong entirely to philosophers. He was a philosopher-poet concerned not simply with describing and explaining the world as he found it, but with identifying and employing the electrifying arts that make the world appear uncanny and ineffably deep." —Tamsin Shaw

"Nietzsche wants to hear idols break. Dismay, exasperation, anger, outrage, disgust, humiliation disappointment: they fuel his philosophy, and it is little without them. Exhilaration, joy, exuberance, excess: they feed it too." —William H. Gass

"Paul Reitter and Chad Wellmon's introduction and notes helpfully contextualize Nietzsche's barbs, though much of what Nietzsche has to say transcends the milieu in which it was written, and many of his criticisms will resound with readers today…this translation, with its useful notes and introduction, certainly provokes and surprises." —Jon Morris, Popmatters

"Whether we acknowledge it or not, we continue to live within the intellectual shadow cast by Nietzsche. Postmodernism, deconstructionism, cultural relativism, the "free spirit" scorning bourgeois morality, even New Age festivals like Burning Man can all ultimately be traced to him." --Francis Fukuyama, The New York Times Book Review

"Prof. Nietzsche was one of the most prominent of modern German philosophers, and he is considered the apostle of extreme modern rationalism and one of the founders of the socialistic school, whose ideas have had such a profound influence on the growth of political and social life throughout the civilized world...his doctrines however, were inspired by lofty aspirations, while the brilliancy of his thought and diction and the epigrammatic force of his writings commanded even the admiration of his most pronounced enemies, of which he had many." --The New York Times 

"Having challenged the foundations of all external authority, Nietzsche demonstrated that the intellect, once it frees itself of all binding illusions philosophical, religious, and cultural, knows no piety, no party, and no platform." --Jennifer Ratner-Rosenhagen, The Making of the American Nietzsche 
NYRB Classics, 9781590178942, 160pp.
Publication Date: December 15, 2015
About the Author
Friedrich Nietzsche (1844–1900) was born in Röcken bei Lützen, a farming town outside of Leipzig, to a long line of Lutheran ministers. After his father's early death from a brain disease, the family relocated to Naumburg an der Saale. Nietzsche attended the Schulpforta boarding school, where he became enamored with the music of Richard Wagner and the writings of the German Romantics, before going on to study at the Universities of Bonn and Leipzig. As a university student, Nietzsche gained a reputation as a classical philologist and discovered Arthur Schopenhauer's The World as Will and Representation, the "cadaverous perfume" of which would hang over him throughout his career. After a period of compulsory military service, Nietzsche was appointed to the faculty of the University of Basel at the age of twenty-four. He published his first book, The Birth of Tragedy, in 1872, but his deteriorating health soon forced him to retire from academia. In the itinerant period that followed, Nietzsche completed his most influential works, including Thus Spoke Zarathustra (1883–85), Beyond Good and Evil (1886), and The Antichrist (1888). He suffered a mental breakdown in Turin on January 3, 1889—purportedly at the sight of a horse being beaten by a coachman. Before collapsing, Nietzsche is said to have thrown his arms around the horse's neck to shield it from the whip. Three days later, he wrote in a letter to his mentor Jacob Burckhardt that he would rather be "a Basel Professor than God." He was subsequently hospitalized, and lived the rest of his life an invalid  in the care of his mother and sister. 

Damion Searls is a translator from German, French, Norwegian, and Dutch and a writer in English. His own books include What We Were Doing and Where We Were Going, The Inkblots, and The Philosophy of Translation. He received the Helen and Kurt Wolff Translator's Prize in 2019 for Uwe Johnson's Anniversaries.

Paul Reitter is a professor of Germanic languages and literatures and the director of the Humanities Institute at Ohio State. His work has appeared in Harper's Magazine, Bookforum, The Paris Review, The Nation, and The Times Literary Supplement as well as in various scholarly journals. He is the author of three books.

Chad Wellmon is an associate professor of German studies at the University of Virginia and a faculty fellow at the Institute for Advanced Studies in Culture. He is the author of Becoming Human: Romantic Anthropology and the Embodiment of Freedom and Organizing Enlightenment: Information Overload and the Invention of the Modern Research University and edits the blog Infernal Machine.