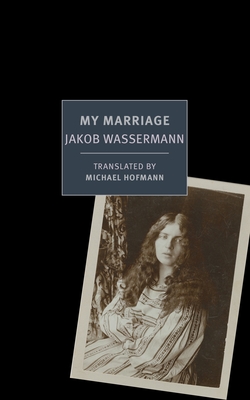 My Marriage (Paperback)
NYRB Classics, 9781590179222, 288pp.
Publication Date: January 26, 2016
* Individual store prices may vary.
Description
Alexander Herzog, a young writer, goes to Vienna to escape his debts and a failed love affair. There he is pursued by book-loving Ganna: giddy, girlish, clumsy, eccentric, and wild. Dazzled and unnerved by her devotion to him, and attracted to the large dowry offered by her wealthy father, he thinks he can mold Ganna into what he wants. But no one can control her troubling passions. As their marriage starts to self-destruct, Herzog will discover that he can never escape her.

Posthumously published in 1934 and based on Wassermann's own ruinous marriage, My Marriage is a tragic masterpiece that unfolds in shocking detail. This story of rare intensity and drama is now brought to English readers in a powerful translation by Michael Hofmann. 
About the Author
J. Wassermann (1873-1934) was a renowned and, late in his life, bestselling German-Jewish author of fiction, plays, biographies, and a memoir, My Path as a German and a Jew.

Michael Hofmann is a poet and translator. He has translated nine books by Joseph Roth and was awarded the PEN translation prize for String of Pearls. His Selected Poems were published in 2010. He lives in London.
Praise For My Marriage…
"Translator Michael Hofmann has unearthed Wassermann's barely fictionalized and utterly modern marriage tragedy and rendered it in English as a stand-alone novel, My Marriage. It is as lush and brutal—and genuinely honest—a portrait of a relationship as I have ever come across…This is Wassermann, a chronic overwriter, at his boiled-down best. My Marriage is a story that he had been honing in his head for years. Mr. Hofmann's perceptive translation tunes the novel for the contemporary ear, but really for all time: This is perfectly etched domestic tragedy….[Wassermann] is a master novelist." —Nathaniel Popkin, The Wall Street Journal

I absolutely could not put My Marriage aside." —Kai Maristed, The Arts Fuse 

"My Marriage is the best (and roughest) novel I have ever read that focuses on a failed marriage...The novel's final section, "The Age of Dissolution," is a marvel of Bleak House-level legal disputation, a masterpiece of dead-hearted obsession, and an accidental treatise on how love and marriage disintegrate under the weight of bureaucracy...My Marriage is a masterpiece of matrimonial despair." —Jonathon Sturgeon, FlavorWire

"The opening pages of this novel by the German writer Jakob Wassermann (1873-1934) are like something out of Chekhov - it's all there, the ennui, the preening etiquette, the intellectual posturing. As the marriage progresses, the tone becomes increasingly neurotic....a devastating indictment of the choices we make out of convenience against our hearts and instincts, and the tragedies that ensue." --Andre Naffis-Sahely, The Independent

"...suprisingly modern in its depiction of the emotional trauma of a bad marriage." --Arif Akbar, The Independent 

"The candour and extremity and intelligence...are profoundly affecting ... This is a literary masterwork of a vanished kind, but through the remarkable Hofmann it is born again as a story for our age. Hofmann has the rare ability to refresh the very heart of a text in translating it, to increase its connections to life." --Rachel Cusk, The Guardian

"[Wassermann's] most elegant and focused work." --Nick Richardson, London Review of Books 
or
Not Currently Available for Direct Purchase