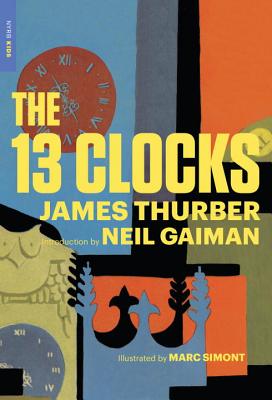 The 13 Clocks
Paperback

* Individual store prices may vary.
Other Editions of This Title:
Paperback (8/2/2016)
Hardcover (6/1/1950)
Description
Now in paperback
Once upon a time, in a gloomy castle on a lonely hill, where there were thirteen clocks that wouldn t go, there lived a cold, aggressive Duke, and his niece, the Princess Saralinda. She was warm in every wind and weather, but he was always cold. His hands were as cold as his smile and almost as cold as his heart. He wore gloves when he was asleep, and he wore gloves when he was awake, which made it difficult for him to pick up pins or coins or the kernels of nuts, or to tear the wings from nightingales.
So begins James Thurber's sublimely revamped fairy tale, The 13 Clocks, in which a wicked Duke who imagines he has killed time, and the Duke's beautiful niece, for whom time seems to have run out, both meet their match, courtesy of an enterprising and very handsome prince in disguise. Readers young and old will take pleasure in this tale of love forestalled but ultimately fulfilled, admiring its upstanding hero ( who yearned to find in a far land the maiden of his dreams, singing as he went and possibly slaying a dragon here and there ) and unapologetic villain ( We all have flaws, the Duke said. Mine is being wicked ), while wondering at the enigmatic Golux, the mysterious stranger whose unpredictable interventions speed the story to its necessarily happy end.
Nyrb Kids, 9781590179376, 128pp.
Publication Date: September 29, 2015
About the Author
James Thurber (1894 1961) was born in Columbus, Ohio. After dropping out of college, he became a successful reporter, first for The Columbus Dispatch and later for the New York Evening Post. In 1927, after rejecting countless submissions, The New Yorker published one of Thurber s short pieces. Not long after, he met E.B. White, who helped him get a job as an editor there; White also encouraged Thurber to use his own drawings to illustrate his first book, the best-selling satire Is Sex Necessary? Thurber didn t last long in his editorial job, but he continued publishing sketches and Talk of the Town pieces for The New Yorker until his death. Among his nearly forty books are The Owl in the Attic, Fables for Our Time, The Secret Life of Walter Mitty, and A Thurber Carnival, which was adapted for the stage, winning a Tony Award in 1960. Thurber also wrote five books for children: Many Moons (1943), a Caldecott Honor Book; The Great Quillow (1944); The White Deer (1945); The 13 Clocks (1950); and The Wonderful O (1957), which is available from The New York Review Children s Collection. Marc Simont (1915 2013) was born in Paris, the child of Catalan immigrants. He studied art with his father, a professional illustrator, and at several schools in France and America, where he moved when he was nineteen. Simont illustrated nearly one hundred books, working with authors such as Margaret Wise Brown, James Thurber, and Marjorie Weinman Sharmat (on the Nate the Great series). He is also the author of several books and the translator of poems by Garcia Lorca and others. Simont received the Caldecott Medal for his illustrations to A Tree Is Nice by Janice May Udry. He collaborated with Ruth Krauss on The Backward Day (also published by The New York Review Children s Collection) and The Happy Day, a Caldecott Honor Book. Neil Gaiman is an award-winning author of novels, short stories, and graphic novels. Among his works are the children s books Coraline, The Wolves in the Walls, and The Day I Swapped My Dad for Two Goldfish; the Sandman graphic novel series; and the fantasy novels Stardust and Neverwhere. Originally from England, Gaiman now lives in the United States."
or
Not Currently Available for Direct Purchase