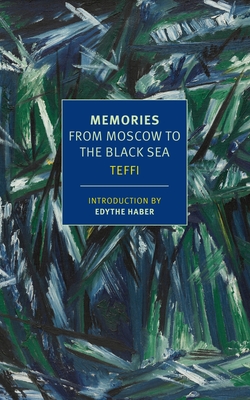 Memories
From Moscow to the Black Sea
Paperback

* Individual store prices may vary.
Description
WINNER OF THE 2018 READ RUSSIA PRIZE AND THE PUSHKIN HOUSE BEST BOOK IN TRANSLATION IN 2017

Considered Teffi's single greatest work, Memories: From Moscow to the Black Sea is a deeply personal account of the author's last months in Russia and Ukraine, suffused with her acute awareness of the political currents churning around her, many of which have now resurfaced.

In 1918, in the immediate aftermath of the Russian Revolution, Teffi, whose stories and journalism had made her a celebrity in Moscow, was invited to read from her work in Ukraine. She accepted the invitation eagerly, though she had every intention of returning home. As it happened, her trip ended four years later in Paris, where she would spend the rest of her life in exile. None of this was foreseeable when she arrived in German-occupied Kiev to discover a hotbed of artistic energy and experimentation. When Kiev fell several months later to Ukrainian nationalists, Teffi fled south to Odessa, then on to the port of Novorossiysk, from which she embarked at last for Constantinople. Danger and death threaten throughout Memories, even as the book displays the brilliant style, keen eye, comic gift, and deep feeling that have made Teffi one of the most beloved of twentieth-century Russian writers.
Praise For Memories: From Moscow to the Black Sea…
"Despite the backdrop of terror, war, death and loss, Teffi's world becomes somewhere we do not want to leave…Teffi, somehow, makes some of the bleakest years of Russian history brighter; the country shrinks to the size of a village in which its occupants are a community, living, working together and helping each other." —Claire Kohda Hazelton, The Guardian

"Poignant reflections of a beloved Russian humorist as she fled her homeland on the eve of Bolshevik victory....Throughout, the author's characterizations are precise and even ruthless, and she captures the tense mood of paranoia and sorrow of the refugee. Fluently translated by several hands and introduced by Teffi's biographer, Edythe Haber, these are priceless anecdotes and beautiful portraits of friends and acquaintances lost forever." —Kirkus (starred review)

"This new translation…. of [Teffi's] autobiographical work is a solid reintroduction to her charmingly Chekhovian voice… it is that juxtaposition of the frightful and the comical that brings Teffi's work to its perfection….Readers who enjoy the acerbic and ironic tone of David Sedaris and the humane observations of Anton Chekhov should find themselves in familiar company with this work." —Library Journal

"A carefully constructed, imaginative, and richly poetic narrative." —Maria Bloshteyn, Los Angeles Review of Books

"The memoir [Memories] would be fascinating under any circumstances, but it has special poignancy now, when millions of Ukrainians have been displaced by a conflict that is half tragedy and half farce."—Sophie Pinkham, The New Yorker

"With an unflinching eye for detail, whether noting the comedy of a fellow refugee's turn of phrase or the torture enacted on his prisoners by a sadistic colonel, Teffi paints a portrait of a unique historical moment that also resonates with contemporary horrors." —Lucy Scholes, BBC

"I never imagined such a memoir could be possible, especially about the Russian Civil War. Teffi wears her wisdom lightly, observing farce and foible amid the looming tragedy, in this enthralling book" —Antony Beevor

"Teffi demonstrates a profound sympathy for the ordinary people among whom she counts herself, swept along by cataclysmic events. While she sympathises with those who cannot help themselves, she is not afraid to look into the depths of what human beings can do to one another and what  happens when civilisation breaks down." —Virginia Rounding, Financial Times

"The book is expertly and collectively translated by Robert Chandler, Elizabeth Chandler, Anne Marie Jackson and Irina Steinberg. It reads extremely easily and well in English and is furnished with an introduction, translators' afterword and copious notes to explain references and allusions now lost to time." —William Boyd, Sunday Times

"Memories is an astonishing work that, like Sholokhov's Quiet Flows the Don, and for many of the same reasons, deserves to be turned into a film. It is both a thriller and an unforgettably personal account of one of the worst periods in Russian history." —Catherine Brown, Literary Review

"[An] astonishingly vivid memoir...Wittily, wryly, wistfully, but never self-indulgently, Teffi tells the story of her escape from Moscow to Kiev to Odessa and onto a dodgy boat to cross the Black Sea as the country she loves is turned upside down in the aftermath of the Bolshevik revolution." —Ysenda Maxtone Graham, Country Life

"A vividly idiosyncratic personal account of the disintegration - moral, political, strategic - of Tsarist Russia after the Revolution, as alive to the farcical and the ridiculous as it is to the tragic; a bit like what Chekhov might have written if he had lived to experience it." —Michael Frayn

"Teffi is a courageous companion for anyone's life." —Erica Wagner, The New Statesman

"Speaking of brilliant writers, here's something from one of the 20th century's best....In this, remarkably the first English translation of her trek across a chaotic post-revolution Russia, [Teffi] sparkles with her usual wit and humanity, her Gogol-like love of the absurd matching her Chekhovian ear for dialogue…she always finds the funny but never loses sight of the sadness. Awesome." —Jane Graham, The Big Issue


NYRB Classics, 9781590179512, 296pp.
Publication Date: May 3, 2016
About the Author
Teffi (1872–1952) was the pen name of Nadezhda Lokhvitskaya, born in St. Petersburg into a distinguished family that treasured literature. She and her three sisters all became writers. Teffi wrote in a variety of styles and genres: political feuilletons published in a Bolshevik newspaper during her brief period of radical fervor after the 1905 Revolution; Symbolist poems that she declaimed or sang in Petersburg literary salons; popular one-act plays, mostly humorous or satirical—one was entitled The Woman Question; and a novel titled simply Adventure Novel. Her finest works are her short stories and Memories, a witty, tragic, and deeply perceptive account of her last journey across Russia and what is now Ukraine, before going by boat to Istanbul in the summer of 1919. Teffi was widely read; her admirers included not only such writers as Bunin, Bulgakov, and Zoshchenko, but also both Lenin and the last tsar. In pre-Revolutionary Russia, candies and perfumes were named after her; after the Revolution, her stories were published and her plays performed throughout the Russian diaspora. She died in Paris.

Robert Chandler's translations from Russian include Alexander Pushkin's The Captain's Daughter (an NYRB classic); Nikolay Leskov's Lady Macbeth of Mtsensk; Vasily Grossman's An Armenian Sketchbook, Everything Flows, Life and Fate, and The Road (all NYRB classics); and Hamid Ismailov's Central Asian novel, The Railway. His co-translations of Andrey Platonov have won prizes both in the UK and in the US. He is the editor and main translator of Russian Short Stories from Pushkin to Buida and Russian Magic Tales from Pushkin to Platonov. Together with Boris Dralyuk and Irina Mashinski he has co-edited The Penguin Book of Russian Poetry. He has also translated selections of Sappho and Apollinaire. As well as running regular translation workshops in London and teaching the annual Translate in the City literary translation course, he works as a mentor for the British Centre for Literary Translation.

Elizabeth Chandler is a co-translator, with Robert Chandler, of Pushkin's The Captain's Daughter and of several titles by Andrey Platonov and Vasily Grossman.

Anne Marie Jackson has lived for extended periods in Russia and Moldova. She is a co-translator, with Robert Chandler and Rose France, of Tolstoy, Rasputin, Others, and Me: The Best of Teffi (available as an NYRB classic). Her previous translations include works by Alexei Nikitin, Maxim Osipov, and Olga Slavnikova.

Irina Steinberg was born in Moscow in 1983. She emigrated to England with her family at the age of eight and now lives primarily in London. She has a BA in English language and literature from University College London, as well as postgraduate qualifications in law. She started pursuing her interest in translation professionally in her late twenties and was a co-translator of Teffi's Subtly Worded and Other Stories (2014).

Edythe Haber is Professor Emerita of Russian at the University of Massachusetts Boston and a Center Associate at the Davis Center for Russian and Eurasian Studies at Harvard University. She is the author of Mikhail Bulgakov: The Early Years (1998) and of many articles on Russian literature, particularly on Bulgakov, Teffi, and Vladimir Nabokov. She is presently completing a critical biography of Teffi.
or
Not Currently Available for Direct Purchase