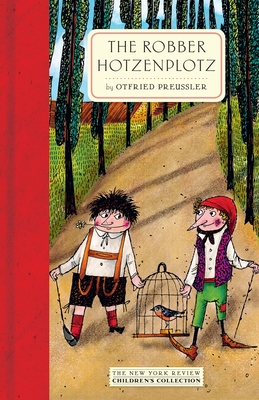 The Robber Hotzenplotz
Hardcover

* Individual store prices may vary.
Description
The Robber Hotzenplotz is a merry tale of two scoundrels, two friends, a toad-fairy, and an unforgettable escapade.
 
The Robber Hotzenplotz works hard at his job, waking early to hide in the woods and waylay new victims. One morning Kasperl's grandmother is sitting in the sun outside her house, grinding coffee in her new musical coffee mill—a birthday gift from Kasperl and his best friend Seppel—when suddenly Hotzenplotz, attracted by the music, leaps out to steal the mill. Sergeant Dimplemoser hears Grandmother's cries and comes to her aid, but Hotzenplotz has evaded the useless police for years. So Kasperl and Seppel vow to catch the robber themselves. But catching robbers is not as easy as all that ... Kasperl and Seppel soon discover that even the best-laid plans can be foiled, especially when Hotzenplotz enlists the help of his wicked magician friend Petrosilius Zackleman, a gluttonous villain with a weakness for fried potatoes.
Praise For The Robber Hotzenplotz…
"Both wonderfully timeless and quirky, this unconventional adventure will delight its audience and belongs in most collections." —School Library Journal, starred review

"In the highly successful Robber Hotzenplotz, Preussler reveals an almost inexhaustible fantasy and an unfailing sense of humor." —Horst Künnemann, Bookbird

"This humorous and entertaining story is a quick read that will appeal to a wide variety of readers." —CLEAR (Children's Literature Evaluation and Review Interest Group - Ohio) 

"Merrily illustrated, this absurd little adventure would make a dynamite read-aloud for ages 6 and up." —Orange Marmalade Books

Praise for Otfried Preussler
"Two definitive aspects of his work stand out: first, a deep rootedness in the oral tradition of the fairy tales and legends of his homeland; and second, the author's process for creating stories that, as a teacher, he has actually told to his students...[Preussler's works are] a solid, integral part of children's literature."
—Ute Baumann, Bookbird
NYR Children's Collection, 9781590179611, 128pp.
Publication Date: May 10, 2016
About the Author
Otfried Preussler (1923–2013) was born into a family of teachers in Reichenberg, Czechoslovakia, and as a boy loved listening to the folktales of the region. Drafted into the army during World War II, Preussler was captured in 1944 and spent the next five years as a prisoner of war in the Tatar Republic. After his release, he moved to Bavaria and became a primary-­school teacher and principal, supplementing his income by working as a reporter for a local newspaper and by writing scripts for children's radio. One of the most popular authors for children in Germany, Preussler was twice awarded the German Children's Book Prize. His many books have been translated into fifty-five languages and have sold over fifty million copies. New York Review Books also publishes Preussler's Krabat & the Sorcerer's Mill, The Little Water Sprite, and The Little Witch. 

Anthea Bell is a translator from the German, French, and Danish, and the winner of the Independent Foreign Fiction Prize, the Helen and Kurt Wolff Translator's Prize, and, three times over, the Marsh Award for Children's Literature in Translation. She has translated Asterix, Hans Christian Andersen, Cornelia Funke, Kerstin Gier, W.G. Sebald, Sigmund Freud, and several novels by Otfried Preussler.  

Franz Josef Tripp (1915–1978) illustrated, among many other books, Jim Button and Luke the Engine Driver by Michael Ende, as well as The Little Ghost and the two sequels to The Robber Hotzenplotz by Otfried Preussler. His son is the artist Jan Peter Tripp.