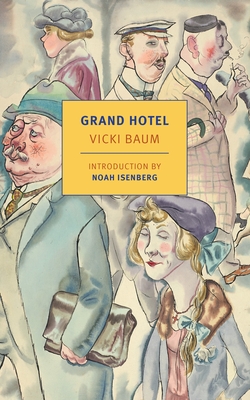 Grand Hotel
Paperback

* Individual store prices may vary.
Description
A grand hotel in the center of 1920s Berlin serves as a microcosm of the modern world in Vicki Baum's celebrated novel, a Weimar-era best seller that retains all its verve and luster today. Among the guests of the hotel is Doctor Otternschlag, a World War I veteran whose face has been sliced in half by a shell. Day after day he emerges to read the paper in the lobby, discreetly inquiring at the desk if the letter he's been awaiting for years has arrived. Then there is Grusinskaya, a great ballerina now fighting a losing battle not so much against age as against her fear of it, who may or may not be made for Gaigern, a sleek professional thief. Herr Preysing also checks in, the director of a family firm that isn't as flourishing as it appears, who would never imagine that Kringelein, his underling, a timorous petty clerk he's bullied for years, has also come to Berlin, determined to live at last now that he's received a medical death sentence. All these characters and more, with all their secrets and aspirations, come together and come alive in the pages of Baum's delicious and disturbing masterpiece.
Praise For Grand Hotel…
"The legacy of Baum's novel is not just the 1932 MGM film starring John Barrymore and Greta Garbo (and the 1980s Broadway musical), but all those star-stuffed movies and fat popular novels...in which some institution or event serves as the setting for the intersecting individual dramas. What distinguishes the book from its plump progeny is not only its relatively modest length but the delicacy of Baum's writing...The book is kin to both the stories of Stefan Zweig and the films of Max Ophüls, both artists who chronicled devastating loss but drew our eye to the exquisite fluidity with which the most precious things slid through their characters' elegant, manicured fingers." —Kirkus starred review

"Through the revolving doors of Grand Hotel pass multifarious stray souls: some resigned to their drab fates, others searching eagerly for life—all persuaded that it has somehow passed them by.  We meet them as they come under the practiced eye of the staff, expert in Weimar Berlin's taxonomies of class. Like George Grosz, Vicki Baum renders human foibles at their most pathetic, despicable, and comical, then turns her characters inside out, until we recognize our own hopes and fears refracted in them." —Holly Brubach

"The author's strength is creating compelling characters with sexual attitudes that feel contemporary. Grand Hotel prefigures Downtown Abbey and Upstairs, Downstairs by examining multiple characters from different classes (both guests and the hotel staff) in a single-setting microcosm of society and lives up to its reputation as a modern classic." —Kevin Howell, Shelf Awareness 

"A spiritual motion picture of modern life, the characteristics, the cross-currents of thought and emotion, of this new age." —J. B. Priestley

"[Told] with unusual skill and distinguished by an acute perception of minor detail."—George Dangerfield, The Bookman
 
"One of the most perfectly constructed popular novels in modern literature."—Frank N. Magill, editor of Masterplots, Revised Edition
NYRB Classics, 9781590179673, 304pp.
Publication Date: June 7, 2016
About the Author
Vicki Baum (1888–1960) was born into an affluent Jewish family in Vienna. Her childhood was dominated by a depressed mother and an authoritarian, hypochondriac father, who discouraged her early forays into literature. She studied harp at the Vienna Academy for Music and the Performing Arts and left home at eighteen to marry Max Prels, a journalist under whose name her first short stories were published. In 1916, after the dissolution of her first marriage, she married the conductor Richard Lert and launched her literary career, eventually writing nearly a book a year while working as an editor at the German publishing house Ullstein. Her first major success came in 1920 with the publication of her second novel, Once in Vienna. She spent several months in New York and Hollywood during the making of the film adaptation of Grand Hotel—which starred Greta Garbo and Joan Crawford and went on to win the 1933 Oscar for Best Film—and, before Hitler's rise to power, resettled in Los Angeles, where she continued to publish novels while also working as a screenwriter for Paramount and Metro-Goldwyn-Mayer. Her memoir, It Was All Quite Different, was published posthumously. 

Basil Creighton (1886–1989) translated many notable works of German literature, including Hermann Hesse's Steppenwolf, B. Traven's The Treasure of the Sierra Madre, and Alma Mahler's Gustav Mahler: Memories and Letters.

Margot Bettauer Dembo (1928-2019) was the translator of works by Judith Hermann, Robert Gernhardt, Joachim Fest, Ödön von Horváth, and Feridun Zaimoglu, among others. She was awarded the Goethe-Institut/Berlin Translator's Prize in 1994 and the Helen and Kurt Wolff Translator's Prize in 2003. Dembo also worked as a translator for two feature documentary films: The Restless Conscience, which was nominated for an Academy Award, and The Burning Wall. For NYRB Classics she translated Transit and The Seventh Cross by Anna Seghers and Grand Hotel by Vicki Baum.

Noah Isenberg is a professor of culture and media at the New School, where he also serves as the director of screen studies. He is the author of several books on film, a regular contributor to Bookforum, The Nation, and the Times Literary Supplement, and the book review editor of Film Quarterly. Isenberg is a fellow at the New York Institute for the Humanities and the recipient of a 2015 NEH Public Scholar award.
How would you describe the tone of the novel, and why do you think Vicki Baum chose to write the book in that style?
In the introduction, Noah Isenberg includes a quote from the Norwegian crime novel Death Enters the Hotel: "Once again it is confirmed that a large hotel is a world unto itself and that this world is like the rest of the large world. The guests here roam about in their light-hearted, careless summer existence without suspecting anything of the strange mysteries circulating among them." In what ways is Baum's hotel a "world unto itself"? Did you feel that the characters in the story viewed the hotel in that way?
Several of the characters in the novel are old or aging. In what ways does the theme of decay play out in the book?
In the introduction, Noah Isenberg writes, "The city has a distinct life of its own, like another character among the human beings who circulate within it." In what ways does Berlin function as a character in the novel?
On page 157, Kringelein asks the Baron, "But what is life, Herr Baron? You see, Baron, I am no longer young, and besides I am not in good health, and then you suddenly feel afraid—so afraid—of missing life altogether. I don't want to miss life, if you understand?" The Baron replies: "You can't very well miss that. It's always there. You live—and that's all there is to it." How do these differing philosophies about life develop in the book? Which characters ascribed to each man's understanding of life?
What was your impression of the stenographer Flämmchen? Did you find that she was a particularly modern character?
Describe the Baron Gaigern. How did your impression of him change when he fell in love with the ballerina Grusinskaya? What does the Baron's friendship with Kringelein reveal about him as a character?
What role does the veteran Dr. Otternschlag play in the novel? Did you find that his character represented something larger, socially or politically? On the last page of the book, Baum writes, "Doctor Otternschlag sat in the middle of the Lounge, a fossilized image of Loneliness and Death. He has his regular place so he stays on. His yellow hands hang down like lead, and with his glass eye he stares out onto the street, which is full of sunshine that he cannot see…" Why do you think Baum chose to conclude the novel with an image of Otternschlag?
Did you find the end of the novel satisfying?