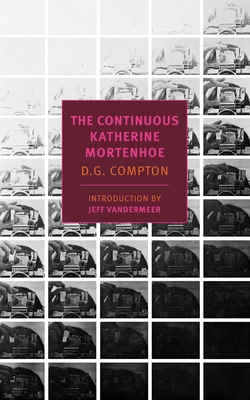 The Continuous Katherine Mortenhoe
Paperback

* Individual store prices may vary.
Description
A prescient 1970s sci-fi novel about death, celebrity, and the ubiquity of reality television, and the basis for the movie Death Watch.

Katherine Mortenhoe lives in a near future very similar to the present day. Only in her time, dying from anything but old age is unheard of; death has been cured. So when Katherine is diagnosed with a terminal brain disease brought on by an inability to process an ever increasing volume of sensory input, she immediately becomes a celebrity to the "pain-starved public." But Katherine rejects her tragic role: She will not agree to be the star of a Human Destiny TV show, her last days will not be documented or broadcast. What she doesn't realize is that from the moment of diagnosis she's been watched, not only by television producers but by a new kind of program host, a man with a camera behind his unsleeping eyes.

Like Margaret Atwood's MaddAddam trilogy, Kazuo Ishiguro's Never Let Me Go, and the television series Black Mirror, The Continuous Katherine Mortenhoe is a thrilling psychological drama that is as wise about human nature as it is about the nature of technology.
Praise For The Continuous Katherine Mortenhoe…
"Like his peers Philip K. Dick, Bernard Wolfe, and J.G. Ballard, D.G. Compton had a special capacity for sensing the encroachment of what has in fact become our present life. And, as with those writers at their best—and The Con­­­­tinuous Katherine Mortenhoe is Compton at his best —he found a way to embody his apprehensions with a sympathy and fascination and horror that puts the reader inside the skin of his characters, and inside the skin of the world." —Jonathan Lethem

"Considering Katherine Mortenhoe was originally published in 1974, the book is eerily relevant in a world where we've surrendered so much of our personal information to tech giants like Facebook and Google. It also reads like something written today, which is impressive for something written yesterday about tomorrow."–Kevin Nguyen, GQ

"Authenticity has always been a tricky concept, but in the era of social media, it's downright weird. All the more striking, then, that one of the most cogent and damning critiques of its internet-age performance should be found in a novel published in 1974." —Anna E. Clark, Los Angeles Review of Books

"For a novel focusing on death (and how we examine it), this is a deeply unsentimental look at life, which makes the emotional sting that its ending contains that much more powerful." —Tobias Carroll, Tor.com

"An eerie, prophetic vision of a not-too-distant future."—Pasquale Iannone, Sight and Sound

"Compton has been one of Britain's most original and consistent novelists since the late Sixties, but he has never received the attention he deserves...Compton's prose is fine-tuned, his human insights sharp, and his narrative pace filled with the weird synchronicities and dissonances of how violent things usually happen."—Scott Bradfield, The Independent
NYRB Classics, 9781590179710, 272pp.
Publication Date: July 5, 2016
About the Author
David Guy Compton is a speculative fiction writer. His 1970 novel, The Steel Crocodile, was nominated for the Nebula Award, and in 1980 Bertrand Tavernier adapted The Continuous Katherine Mortenhoe for the screen under the title Death Watch. Compton lives in Maine.

Jeff VanderMeer is the author of the Southern Reach trilogy (Annihilation, Authority, and Acceptance) and, most recently, of the novel Borne, which was shortlisted for the Arthur C. Clarke award. His nonfiction has appeared in many publications, including The New York Times, The Guardian, and the Los Angeles Times. He lives in Tallahassee, Florida, with his wife, the editor Ann VanderMeer.
or
Not Currently Available for Direct Purchase