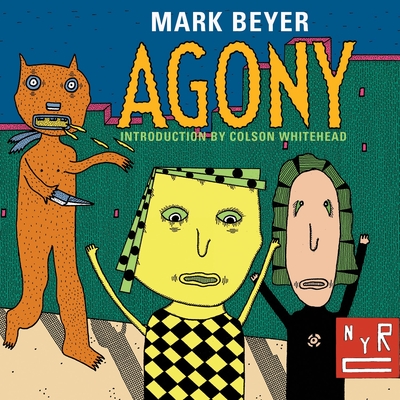 Agony
Paperback

* Individual store prices may vary.
Description
ENJOY THE ECSTASY OF AGONY. Amy and Jordan are just like us: hoping for the best, even when things go from bad to worse. They are menaced by bears, beheaded by ghosts,  and hunted by the cops, but still they struggle on, bickering and reconciling, scraping together the rent and trying to find a decent movie. It's the perfect solace for anxious modern minds, courtesy of one of the great innovators of American comics. Now if only Amy's skin would grow back ...

This NYRC edition features a recreation of the original, pocket-size, slipcovered paperback, designed by Art Spiegelman and Francoise Mouly.
Praise For Agony…
"Mark Beyer's 'Amy and Jordan' was one of the great underground comic strips of the late '80s and early '90s—the Candide-on-PCP misadventures of a seemingly accursed New York City couple."  —Douglas Wolk, The New York Times Book Review 

"Almost childlike in its energy and lack of story logic, this is a charming explosion of grotesque comedic misfortune, exactly as the title promises ... Beyer's calamitous comedy has aged well, its geometric, densely patterned imagery recalling fine art as much as comics and still packing a punch among today's alternative cartoonists." —Publishers Weekly, PW Picks

"Exquisitely, gleefully hopeless." —The A. V. Club

"I couldn't get enough of their misery: I finished it in one sitting and flipped back to the beginning." —The Paris Review Daily Blog

"Mark Beyer's Agony is a highlight of the 80s art comics movement ... Now available in a new edition as the first release of the New York Review Comics line, the abstract, absurd, and bleakly funny comic book returns, and it's just as oddly beautiful and relevant as ever. ... Throughout Agony, Beyer's artwork is odd, alienating, and remarkably effective. A self-taught artist whose work could easily be classified as outsider, raw, brut, or naïve art, Beyer strikes a balance between simple, even childlike figure-work supported by a very dynamic and complex design."— Comics Alliance

"Gorgeously madcap and brutally inspiring." —Kirkus Reviews
 
"Agony by Mark Beyer is an otherworldly pocket-sized jewel that's bound to be rediscovered." —Blouin Artinfo
 
"Beyer's work is universal at its heart ... One of the masters of the form." —Publishers Weekly

"Mark Beyer's are some of my favorite comics of all time, and surely the most perfectly realized vision of urban despair ever to hit the comic page. A must for any fan of bleakness and misery." —Daniel Clowes

"He's one of the flukiest geniuses in comics." —L.A. Weekly
 
"Exquisite poems of urban despair, dreamy and nightmarish." —Chip Kidd
 
"Perhaps the ultimate urban nightmare comic ... Mark Beyer [is] not only an extremely funny cartoonist, but one of the most progressive as well." —Time
 
"A childhood hell palpitating with adult neuroses." —The Village Voice
 
"Beyer's seminal strip is a terrifying New York of the mind." —Dash Shaw
 
"I hope Mark Beyer's work will find a place in the canon ... A treasure of the comics medium." —The Millions
 
"A complete and total original." —Kaz

"[A]n exemplar of [the] eighties 'alternative' comics movement. ... Agony is a book filled with pain, misery, brutality, and hopelessness, but our unexpected laughter reminds us that we must carry on, regardless."—Ivan Brunetti, The Paris Review Daily
New York Review Comics, 9781590179819, 192pp.
Publication Date: March 22, 2016
About the Author
Mark Beyer is a self-taught artist who began making comics in 1975. His work has appeared in The New York Times, The Village Voice, and many other publications, and was a mainstay of RAW magazine. He created a series of animated shorts for MTV's Liquid Television, designed album covers for John Zorn, and collaborated with Alan Moore. Amy and Jordan, the stars of his graphic novel Agony, were also featured in a newspaper strip that ran from 1988 to 1996, and which was collected in Amy and Jordan in 2004. His paintings and drawings have been exhibited around the world, including in Europe, Japan, and the United States.

Colson Whitehead is the author of five novels, including Zone One, Sag Harbor, and The Intuitionist. His latest book is The Noble Hustle, a nonfiction account of the 2011 World Series of Poker. He is a recipient of a Guggenheim Fellowship and a MacArthur Fellowship.
or
Not Currently Available for Direct Purchase