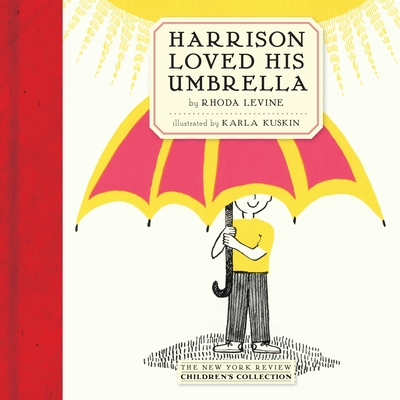 Harrison Loved His Umbrella (Hardcover)
NYR Children's Collection, 9781590179918, 56pp.
Publication Date: June 14, 2016
* Individual store prices may vary.
Description
Harrison liked to hold his umbrella in the rain. He also held it in the sun.He found it very helpful in the snow. But most of all he loved to hold it open in the house.

In fact, Harrison was the only child on his block to hold an open umbrella in his hand all the time. How his friends admired him! 

Then one rainy day, after the rain was over, all the children held umbrellas, and they, too, continued to hold the umbrellas open. They all found them useful in the sun, helpful in the snow, and loved them in the house. 

Complications? Of course! But that's all part of the story.
About the Author
Rhoda Levine is the author of seven children's books and is an accomplished director and choreographer. In addition to working for major opera houses in the United States and Europe, she has choreographed shows on and off Broadway, and in London's West End. Among the world premieres she has directed are Der Kaiser von Atlantis by Viktor Ullmann and X—The Life and Times of Malcolm X and Wakonda's Dream, both by Anthony Davis. In Cape Town she directed the South African premiere of Porgy and Bess in 1996, and she premiered the New York City Opera productions of Janácek's From the House of the Dead, Zimmermann's Die Soldaten, and Adamo's Little Women. 

Levine has taught acting and improvisation at the Yale School of Drama, the Curtis Institute of Music, and Northwestern University, and is currently on the faculty of the Manhattan School of Music and the Mannes College of Music. She lives in New York, where she is the artistic director of the city's only improvisational opera company, Play It by Ear.

Karla Kuskin (1932–2009) was born in Manhattan and grew up in the Greenwich Village neighborhood of the city. She attended Antioch College before transferring to Yale, where she studied with Josef Albers and earned a bachelor of fine arts in graphic design in 1955. With the publication of her first book, Roar and More (1956), she embarked on a lifelong career as a writer and illustrator, going on to produce more than fifty books. Among the many artists and authors she worked with were Paula Fox, Peter Viertel, and Marc Simont, who provided the illustrations to The Philharmonic Gets Dressed, a finalist for the 1983 National Book Award for children's picture book.
Praise For Harrison Loved His Umbrella…
"The little boy in Harrison Loved His Umbrella. . . was so devoted to his umbrella that he never would close it, indoors or out. . . [a] witty commentary on the behavior patterns of children and parents. . . Kuskin offers a series of enchanting vistas of people and umbrellas. Pagefuls of parasols give way to pagefuls of hats." —Alberta Eiseman, The New York Times

"Brightly colored, simply drawn illustrations have caught the mood of the story." —Kirkus Reviews

Praise for Three Ladies Beside the Sea
"This is, of course, a must for the many Edward Gorey fans of all ages, and a chance to discover the fine poetry of Rhoda Levine. I read this one to my five-year-old granddaughter because it is just long enough to be engaging and just short enough to be wiggle proof, and just wise enough to set a young imagination free as a bird." —Sherman Yellen, The Huffington Post
 
Praise for He Was There from the Day We Moved In
"[The] story...achieves a sensitive equilibrium of pathos and humor, a total effect that is sentimental without apology and optimistic without reason." —The New York Times