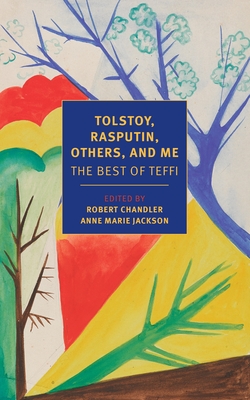 Tolstoy, Rasputin, Others, and Me
The Best of Teffi
Paperback

* Individual store prices may vary.
Description
Early in her literary career Nadezhda Lokhvitskaya, born in St. Petersburg in 1872, adopted the pen-name of Teffi, and it is as Teffi that she is remembered. In prerevolutionary Russia she was a literary star, known for her humorous satirical pieces; in the 1920s and 30s, she wrote some of her finest stories in exile in Paris, recalling her unforgettable encounters with Rasputin, and her hopeful visit at age thirteen to Tolstoy after reading War and Peace. In this selection of her best autobiographical stories, she covers a wide range of subjects, from family life to revolution and emigration, writers and writing.
 
Like Nabokov, Platonov, and other great Russian prose writers, Teffi was a poet who turned to prose but continued to write with a poet's sensitivity to tone and rhythm. Like Chekhov, she fuses wit, tragedy, and a remarkable capacity for observation; there are few human weaknesses she did not relate to with compassion and understanding.
Praise For Tolstoy, Rasputin, Others, and Me: The Best of Teffi…
"Teffi is a courageous companion for anyone's life." —Erica Wagner, The New Statesman

"If Teffi hadn't existed, no one could have invented her. Read and admired by Nicholas II and Lenin, scornful of the Whites and the Bolsheviks, pursued in vain by Rasputin, constitutionally incapable of suffering fools, Nadezhda Lokhvitskaya was one of prerevolutionary Russia's brightest literary beacons." —Michael Robbins, Chicago Tribune

"Nearly all her portraits – both of 'famous historical figures' and of ordinary people – are sharp and vivid. There is only one person in Teffi's autobiographical prose who we are not really allowed to see. This is Nadezhda Lokhvitskaya, carefully concealed by her witty, observant and humane alter ego –Teffi." —Masha Karp, The World Today

"Teffi's genius lies in applying a light, ironic and at times satirical flair of humour to deeply serious subjects. She uses this light-hearted humourous touch to appear detached from subjects which she evidently holds very deep feelings about. It's this combination of light, superficial levity with profound depth that makes her work so compelling…The Best of Teffi is an excellent collection, a wonderful and compelling introduction to the work of a brilliant and underappreciated writer who deserves much greater recognition in the literary world. Let's hope this marks the beginning of that process."—Hans Rollmann, Popmatters

"[Teffi is] an inimitable presence in Russian literature, a genuine wonder." -—Georgy Ivanov
 
"[Teffi] can write in more registers than you might think, and is capable of being heartbreaking as well as very funny. I wish she were still alive, and I could have met her. But then I realised she would have seen right through me. I can't recommend her strongly enough." —Nicholas Lezard, The Guardian
NYRB Classics, 9781590179963, 224pp.
Publication Date: May 3, 2016
About the Author
Teffi (1872–1952) was a popular writer in prerevolutionary Russia, a favorite of both Tsar Nicholas II and Lenin. She was born to a prominent St. Petersburg family and emigrated from Bolshevik Russia in 1919. Eventually settling in Paris, she became an important figure in the émigré literary scene and lived there until her death.
 
Robert Chandler is the translator of the NYRB Classics editions of Andrey Platanov's Soul and The Foundation Pit. His masterful translation of Vasily Grossman's Life and Fate first appeared in 1985 and is available as an NYRB Classic. He lives in London.
or
Not Currently Available for Direct Purchase