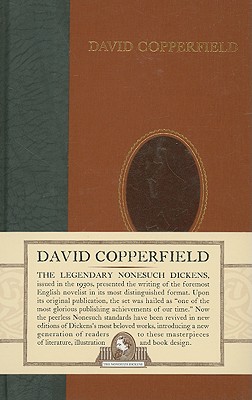 David Copperfield (Hardcover)
Overlook Press, 9781590201367, 871pp.
Publication Date: November 26, 2008
* Individual store prices may vary.
or
Not Currently Available for Direct Purchase
Description
Like many fond parents, wrote Charles Dickens, I have in my heart of hearts a favourite child. And his name is David Copperfield. First published in book form in November 1850, Dickens own favorite among his works is his most autobiographical novel, boasting a wealth of adventure and suspense as well as an unparalleled gallery of the author's most memorable characters including Mr Murdstone, David Copperfield's evil guardian and owner of the wine-bottling factory where David makes his living under appalling conditions, the snake-like Uriah Heap whose vanity leads him to cruelty, Mr Micawber, one of literature's funniest characters, and the kind, generous Peggottys, representing all that is good even in the face of adversity.
About the Author
Charles Dickens was born on February 7, 1812, in Landport, Portsea, England. He died in Kent on June 9, 1870. The second of eight children of a family continually plagued by debt, the young Dickens came to know not only hunger and privation, but also the horror of the infamous debtors prison and the evils of child labor. A turn of fortune in the shape of a legacy brought release from the nightmare of prison and slave factories and afforded Dickens the opportunity of two years formal schooling at Wellington House Academy. He worked as an attorney s clerk and newspaper reporter until his Sketches by Boz (1836) and The Pickwick Papers (1837) brought him the amazing and instant success that was to be his for the remainder of his life. In later years, the pressure of serial writing, editorial duties, lectures, and social commitments led to his separation from Catherine Hogarth after twenty-three years of marriage. It also hastened his death at the age of fifty-eight, when he was characteristically engaged in a multitude of work."
Advertisement