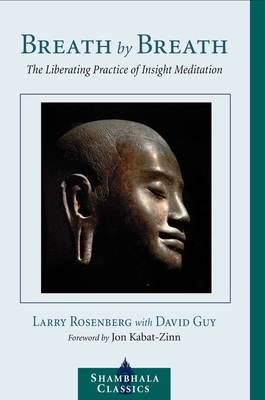 Breath by Breath: The Liberating Practice of Insight Meditation (Paperback)
The Liberating Practice of Insight Meditation
Shambhala, 9781590301364, 240pp.
Publication Date: November 9, 2004
Description
Freedom from suffering is not only possible, but the means for achieving it are immediately within our grasp--literally as close to us as our own breath. This is the 2,500-year-old good news contained in the Anapanasati Sutra , the Buddha's teaching on cultivating both tranquility and deep insight through full awareness of breathing. In this book, Larry Rosenberg brings this timeless meditation method to life. Using the insights gained from his many years of practice and teaching, he makes insight meditation practice accessible to modern practitioners.
About the Author
Larry Rosenberg is founder and resident teacher of the Cambridge Insight Meditation Center in Cambridge, Massachusetts, and a guiding teacher at the Insight Meditation Society in Barre, Massachusetts.
Praise For Breath by Breath: The Liberating Practice of Insight Meditation…
"Rosenberg illuminates this meditative path in clear enlivened writing. A guide worthy of consulting many times."— ForeWord

"A book of delicious simplicity and revolutionary wisdom. These are some of the clearest teachings on mindfulness you will find."—Jack Kornfield, author of A Path With Heart

"Reading this book is like having a warm, wise friend take you by the hand to guide you through the Buddha's classical instructions, making them truly accessible. It is a treasure for both beginning and advanced students."—Sharon Salzberg, author of Lovingkindness and Faith
Advertisement