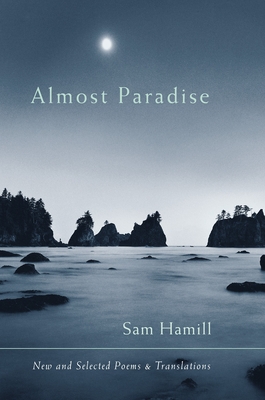 Almost Paradise
New and Selected Poems and Translations
Paperback

* Individual store prices may vary.
Description
Sam Hamill is that rare figure whose life is continually in dialogue with the rich and diverse tradition of poetry, whether that dialogue takes the form of translating the work of a poet long dead, writing a poem in celebration of the work of a contemporary poet, or musing on what it means to be a poet himself. A true poet's poet—and also the founding editor of Copper Canyon Press, one of the most influential publishers of poetry today—Hamill has been part of America's poetry scene for decades and has won numerous prizes and awards for his work. This collection presents the best of Hamill's work from his thirteen books of original poetry and from his numerous critically acclaimed works of translation, as well as a number of new, previously unpublished poems.
Praise For Almost Paradise: New and Selected Poems and Translations…
"The goal of Hamill's poetry is a transparency of word and continuum, of subject and setting forth, an immediacy and clarity of line like that of fine calligraphy or of classical Zen brush painting. His poetry has only now begun to be accorded the attention it deserves."—W. S. Merwin

"No one—I mean no one ever—has done the momentous work of presenting poetry better than Sam Hamill. His editing and publishing, his criticism and translations, his own very strong and beautiful poems have been making a difference in American culture for many years. What a wealth of accomplishment! This book, this selection of his poems and translations is no less than essential."—Hayden Carruth

"Sam Hamill is one of the most disturbing poets of our time. In Almost Paradise he finds his voice both in his own strong work and his intensely powerful translations. I've followed Hamill's work closely now for a couple of decades and my admiration continues to increase."—Jim Harrison

"Exquisite renderings of the paradoxes that encircle us."—Terry Tempest Williams

"Sam Hamill's Almost Paradise is the accounting of a life of extraordinary breadth and passion. Hamill's work—clear and resonant, muscularly and musically felt—is the speaking of a poet of a specific and precise place, whose place is also the world. The poems emerging from his life in the Pacific Northwest bring the reader news from a world you can see, hear, eat, be rained on or warmed by. Poems conversing with other writers traverse as native ground the terrain of ancient Greece, Japan, China, and also the entire liberated and engaged line of American poetics. Hamill is a writer unabashedly taking his place within the community of literature and the community of all sentient beings—his fidelity is to the magnificent truth of existence, and to its commensurate singing."—Jane Hirshfield
Shambhala, 9781590301845, 280pp.
Publication Date: April 12, 2005
About the Author
Sam Hamill has translated more than two dozen books from ancient Chinese, Japanese, Greek, Latin, and Estonian. He has published fourteen volumes of original poetry. He has been the recipient of fellowships from the National Endowment for the Arts, the Guggenheim Foundation, the Woodrow Wilson Foundation, and the Mellon Fund. He was awarded the Decoración de la Universidad de Carabobo in Venezuela, the Lifetime Achievement Award in Poetry from Washington Poets Association, and the PEN American Freedom to Write Award. He cofounded and served as Editor at Copper Canyon Press for thirty-two years and is the Director of Poets Against War.