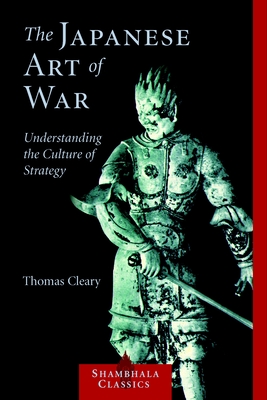 The Japanese Art of War: Understanding the Culture of Strategy (Paperback)
Understanding the Culture of Strategy
Shambhala Publications, 9781590302453, 131pp.
Publication Date: May 10, 2005
Description
Military rule and the martial tradition of the samurai dominated Japanese culture for more than eight hundred years. According to Thomas Cleary--translator of more than thirty-five classics of Asian philosophy--the Japanese people have been so steeped in the way of the warrior that some of the manners and mentality of this outlook remain embedded in their individual and collective consciousness. Cleary shows how well-known attributes such as the reserve and mystery of formal Japanese behavior are deeply rooted in the ancient strategies of the traditional arts of war. Citing original Japanese sources that are popular among Japanese readers today, he reveals the hidden forces behind Japanese attitudes and conduct in political, business, social, and personal life.
About the Author
Thomas Cleary holds a PhD in East Asian Languages and Civilizations from Harvard University and a JD from the University of California, Berkeley, Boalt Hall School of Law. He is the translator of over fifty volumes of Buddhist, Taoist, Confucian, and Islamic texts from Sanskrit, Chinese, Japanese, Pali, and Arabic.
Praise For The Japanese Art of War: Understanding the Culture of Strategy…
"The Japanese Art of War should be required reading for modern-day missionaries of Western business, politics, and culture."—San Francisco Chronicle

"'Set aside all the slogans you have learned and all the intellectual views that stick to your flesh.' Cleary quotes Chinese Zen master Yuanwu as saying. That's what this provocative book forces us to do. It raises the art of understanding of Japan's national and corporate psychology to new—and eminently accessible—heights of clarity. Cleary's is, in fact, the clearest voice explaining East-West cultural differences that I have encountered in a long time. An amazing achievement."—Alexander Besher, author of The Pacific Rim Almanac
Advertisement