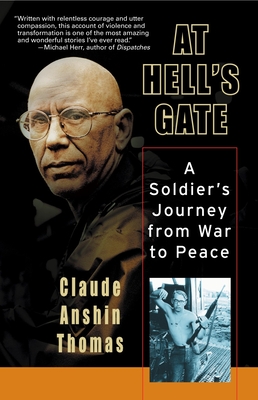 At Hell's Gate
A Soldier's Journey from War to Peace
Paperback

* Individual store prices may vary.
Description
In this raw and moving memoir, Claude Thomas describes his service in Vietnam, his subsequent emotional collapse, and his remarkable journey toward healing. At Hell's Gate is not only a gripping coming-of-age story but a spiritual travelogue from the horrors of combat to the discovery of inner peace—a journey that inspired Thomas to become a Zen monk and peace activist who travels to war-scarred regions around the world. "Everyone has their Vietnam," Thomas writes. "Everyone has their own experience of violence, calamity, or trauma." With simplicity and power, this book offers timeless teachings on how we can all find healing, and it presents practical guidance on how mindfulness and compassion can transform our lives.

This expanded paperback edition features:

   •  Discussion questions for reading groups
   •  A new afterword by the author reflecting on how the current wars in Iraq and Afghanistan are affecting soldiers—and offering advice on how to help returning soldiers to cope with their combat experiences
Praise For At Hell's Gate: A Soldier's Journey from War to Peace…
"Thomas's presentation of this difficult experience is searingly honest."—Shambhala Sun

"This gripping spiritual memoir bears witness to the transforming meditation and mindfulness in the life of a Vietnam Veteran."—Spirituality and Health

"Let me start by simply recommending that you buy, read, and think about Claude Anshin Thomas's book, At Hell's Gate. It was a long time coming but worth the wait, especially in this time of war and rampant violence."—Turning Wheel

"What gives Thomas's perspective so much weight is that it carries the rare and undeniable authority of one who has seen firsthand the extremes of both good and evil that lie in the human soul."—What Is Enlightenment?



"This is a book of great power. Thomas's story has the power to heal, to inspire, to teach."—John Laurence, former CBS News correspondent and author of The Cat from Hué: A Vietnam War Story

"A powerful, wise, and genuinely profound spiritual odyssey from the insanity of violence (in the world, within ourselves, and in the assumptions of American culture) to the peace and compassion of mindfulness practice. Thomas beautifully models Zen teachings in his daily life, and by doing so he enlightens and liberates us all."—Charles Johnson, winner of the National Book Award for Middle Passage

"Claude Anshin Thomas has been an inspiration to me. Our world urgently needs to listen to him tell of his life in war and then in peace."—Maxine Hong Kingston, author of The Woman Warrior

"In these strange times, when fear and aggression often seem to be the only responses we can imagine to a perceived threat, this powerful book provides an honest, open-hearted, and very moving testimony to the power of Buddhist practice to break this cycle. Thomas is a hero in the truest sense of the word: having undergone an epic trial, he has generously come back to help others in need."—George Saunders, author of Pastoralia and CivilWarLand in Bad Decline



"Thomas's journey from the killing fields of Vietnam to the path of peace and pilgrimage testifies to his—and our—powerful urge to awaken. At the same time, this is not a pretty story. Anshin Thomas has lived in hell, knows its smell and taste, and continues to confront it every day of his life. Yet he remains undeterred in his work to make peace in himself and the world at large."—Bernie Glassman, author of Instructions to the Cook and Bearing Witness
Shambhala, 9781590302712, 184pp.
Publication Date: January 10, 2006
About the Author
Claude Anshin Thomas went to Vietnam at the age of eighteen, where he received numerous awards and decorations, including twenty-seven Air Medals, a Distinguished Flying Cross, and the Purple Heart. Today he is a monk in the Soto Zen tradition and an active speaker and Zen teacher in the United States and Europe. He is also the founder of the Zaltho Foundation, a nonprofit organization that promotes peace and nonviolence (www.zaltho.org). This is his first book.