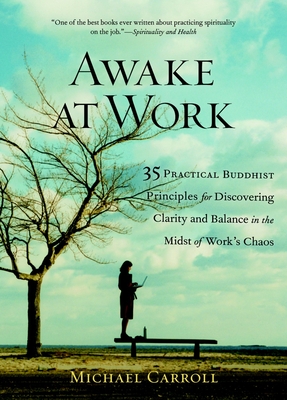 Awake at Work (Paperback)
35 Practical Buddhist Principles for Discovering Clarity and Balance in the Midst of Work's Chaos
Shambhala, 9781590302729, 272pp.
Publication Date: February 14, 2006
* Individual store prices may vary.
Description
When we think of work, we often think of drudgery, frustration, and stress. For too many of us, work is the last place in our lives we expect to experience satisfaction, fulfillment, or spiritual growth. In this unique book, Michael Carroll—a meditation teacher, executive coach, and corporate director—shares Buddhist wisdom on how to transform the common hassles and anxieties of the workplace into valuable opportunities for heightened wisdom and enhanced effectiveness. Carroll shows us how life on the job—no matter what kind of work we do—can become one of the most engaging and fulfilling areas of our lives.

At its heart, Awake at Work offers thirty-five principles that we can use throughout our day to revitalize our work as well as our understanding of ourselves and others. Carroll invites readers to contemplate these slogans and to use them on-the-spot, in the midst of work's chaos, to develop clarity, wisdom, and inspiration. Along the way, Carroll presents a variety of techniques and insights to help us acknowledge work, with all its complications, as "a valuable invitation to fully live our lives." In an engaging, accessible, and often humorous style, Awake at Work offers readers a path to rediscovering our natural sense of intelligence, confidence, and delight on the job.


About the Author
For over two decades Michael Carroll worked on Wall Street and in the publishing industry, holding executive positions at Shearson Lehman Brothers, Paine Webber, Simon & Schuster, and the Walt Disney Company. Founding director of AAW Associates, Carroll consults with major corporations on bringing mindfulness into the workplace. He is a longtime student of Buddhist meditation and an authorized teacher in the lineage of Chögyam Trungpa. Carroll has taught mindfulness meditation at the Wharton School of Business, Columbia University, Kripalu, and the Cape Cod Institute. For more information, visit www.awakeatwork.net.
Praise For Awake at Work: 35 Practical Buddhist Principles for Discovering Clarity and Balance in the Midst of Work's Chaos…
"If you're thinking about really showing up for the tens of thousands of hours you'll spend working during your life, you'll want to read this book."—Shambhala Sun

"One of the best books ever written about practicing spirituality on the job."—Spirituality and Health

"Highly recommended."—Mandala

"Refreshingly practical and down to earth."—The Beacon



"A revelatory book that brilliantly applies Buddhist principles to the life of work and vice versa."—Warren Bennis, University Professor, University of Southern California, and author of On Becoming a Leader


"Michael Carroll does not just write about being awake at work; he has lived that awakening, thoroughly and inventively. His adaptation of Buddhist mindfulness to the complexities of modern employment is a singular and valuable accomplishment, giving us pithy exhortations and detailed instructions for being awake and aware in every workplace situation."—Lewis Richmond, author of Work as a Spiritual Practice

"An invaluable guide to surviving—and thriving—in today's demanding business environments. I've drawn on Michael's brilliant and wise advice for years. Now everyone can benefit from his wealth of insight and experience."—Deborah Dugan, president, Disney Publishing Worldwide

"A truly unique book. The wisdom that has been developed in two very different realms—that of business and spiritual practice—join together to create much richer insight and wisdom. Given the struggles of these times, these teachings are extremely important."—Margaret J. Wheatley, author of Leadership and the New Science