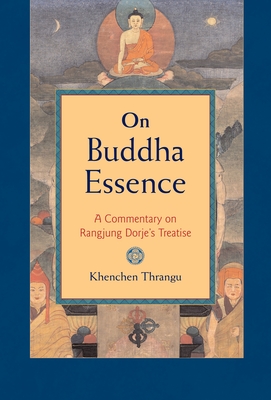 On Buddha Essence: A Commentary on Rangjung Dorje's Treatise (Paperback)
A Commentary on Rangjung Dorje's Treatise
Shambhala Publications, 9781590302767, 168pp.
Publication Date: May 1, 2010
Description
According to Tibetan Buddhist tradition, human beings' true nature, or buddha essence, is the foundation from which all wisdom develops. In order to discover our buddha essence, the meditator needs to know how to meditate correctly and must properly understand the reasons for practicing meditation. We also need training in how the philosophy and practice come together in the development of insight.

In this book—with clarity, warmth, and humor—renowned Tibetan Buddhist meditation master Khenchen Thrangu explains buddha essence and how to discover it in ourselves by drawing on a classical text of the Kagyu lineage by Rangjung Dorje (the third Karmapa). On Buddha Essence will be of interest to practitioners of all schools of Tibetan Buddhism.
About the Author
Khenchen Thrangu was born in Tibet in 1933. He has founded numerous monasteries and nunneries, schools for Tibetan children, and medical clinics. He has taught extensively throughout Europe, Asia, and the United States, and is the abbot of Gampo Abbey. He was appointed by the Dalai Lama to be the personal tutor for the Seventeenth Karmapa.
Praise For On Buddha Essence: A Commentary on Rangjung Dorje's Treatise…
"This treatise is important for understanding the development of Tibetan Mahamudra teachings in their emphasis on emptiness, the true nature of mind, and the importance of meditation in coming to realize emptiness."—Publishers Weekly

"Khenchen Thrangu's work is distinctive because of the clarity and vividness of his religious thought."—Library Journal

"Thrangu Rinpoche explains the aspects of impermanence, permanence, temporality, and the eternal nature of the three kayas with great clarity and alacrity, showing readers the practical implications of these otherwise rarefied Buddhist concepts."—Venerable Traleg Kyabgon, author of The Essence of Buddhism and Mind at Ease
Advertisement