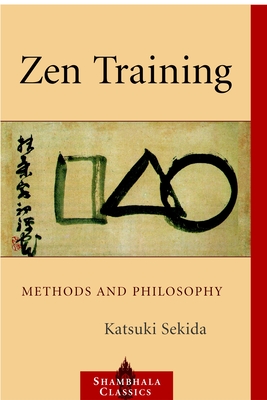 Zen Training: Methods and Philosophy (Paperback)
Methods and Philosophy
Shambhala Publications, 9781590302835, 258pp.
Publication Date: September 13, 2005
Description
"Zen Training " is a comprehensive handbook for "zazen," seated meditation practice, and an authoritative presentation of the Zen path. The book " "marked a turning point in Zen literature in its critical reevaluation of the enlightenment experience, which the author believes has often been emphasized at the expense of other important aspects of Zen training. In addition, "Zen Training " goes beyond the first flashes of enlightenment to explore how one lives as well as trains in Zen. The author also draws many significant parallels between Zen and Western philosophy and psychology, comparing traditional Zen concepts with the theories of being and cognition of such thinkers as Heidegger and Husserl.
About the Author
Katsuki Sekida (18931987) was by profession a high school teacher of English until his retirement in 1945. Zen, nevertheless, was his lifelong preoccupation. He began his Zen practice in 1915 and trained at Empuku-ji in Kyoto and Ryutaki-ji in Mishima, Shizuoka Prefecture. He taught at the Honolulu Zendo and Maui Zendo from 1963 to 1970 and at the London Zen Society from 1970 to 1972."
Praise For Zen Training: Methods and Philosophy…
"Written by a lay teacher with 60 years of experience in zazan, this book provides everyone from absolute beginner to experienced student with detailed, progressive information and discussion on breathing, posture, distraction, actions of mind, physiology, mood, laughter, kensho, and samadhi."—Library Journal



"An extraordinarily important book. It should be on the shelves of all libraries."—Choice



"[Sekida's] approach is radical in its attempt to define Zen practice in terms of Western physiology and phenomenology."—New Age Journal

"This book is a valuable work. Though physiologically technical, it remains personal and practical, focusing on the actual experience of zazen practice. Ultimately, however, it is the concentrated and serious spirit of the book that most tellingly establishes its value to those interested in Zen."—Philip Kapleau
Advertisement