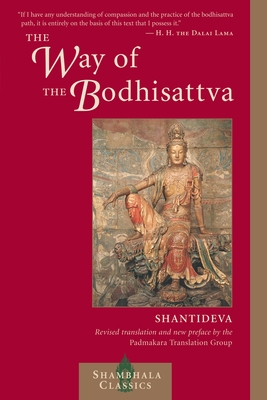 The Way of the Bodhisattva: A Translation of the Bodhicharyavatara (Paperback)
A Translation of the Bodhicharyavatara
Shambhala Publications, 9781590303887, 222pp.
Publication Date: September 12, 2006
Description
Treasured by Buddhists of all traditions, The Way of the Bodhisattva (Bodhicharyavatara) is a guide to cultivating the mind of enlightenment, and to generating the qualities of love, compassion, generosity, and patience. This text has been studied, practiced, and expounded upon in an unbroken tradition for centuries, first in India, and later in Tibet. Presented in the form of a personal meditation in verse, it outlines the path of the Bodhisattvas--those who renounce the peace of individual enlightenment and vow to work for the liberation of all beings and to attain buddhahood for their sake. This version, translated from the Tibetan, is a revision by the translators of the 1997 edition. Included are a foreword by His Holiness the Dalai Lama, a new translator's preface, a thorough introduction, a note on the translation, and three appendices of commentary by the Nyingma master Kunzang Pelden.
About the Author
Shantideva was a scholar in the eighth century from the monastic university Nalanda, one of the most celebrated centers of learning in ancient India. According to legend, Shantideva was greatly inspired by the celestial bodhisattva Manjushri, from whom he secretly received teachings and great insights. Yet as far as the other monks could tell, there was nothing special about Shantideva. In fact, he seemed to do nothing but eat and sleep. In an attempt to embarrass him, the monks forced Shantideva's hand by convincing him to publicly expound on the scriptures. To the amazement of all in attendance that day, Shantideva delivered the original and moving verses of the Bodhicharyavatara. When he reached verse thirty-four of the ninth chapter, he began to rise into the sky, until he at last disappeared. Following this, Shantideva became a great teacher.
Praise For The Way of the Bodhisattva: A Translation of the Bodhicharyavatara…
"Shantideva's work is required reading for an understanding of Tibetan Buddhism, and the clarity and crispness of this new translation make it an accessible way into the world."—Publishers Weekly

"If I have any understanding of compassion and the practice of the bodhisattva path, it is entirely on the basis of this text that I possess it."— H. H. the Dalai Lama
Advertisement