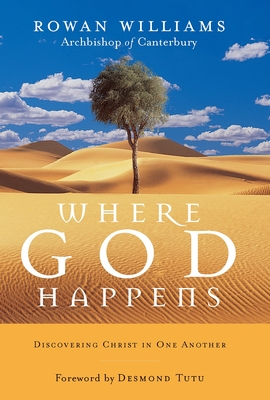 Where God Happens
Discovering Christ in One Another
Paperback

* Individual store prices may vary.
Description
The place "where God happens," according to Rowan Williams's striking new reading of the Desert Fathers and Mothers, is between each other. It's a truth that we of the twenty-first century most urgently need to learn in order to heal the experience of alienation that has become endemic to our age, and these odd and appealing ancient figures, surprisingly, hold keys to this healing.

The fourth-century Christian hermits of Egypt, Syria, and Palestine understood the truth of Christian community profoundly, and their lives demonstrate it vividly—even though they often lived in solitude and isolation. The author breaks through our preconceived ideas of the Desert Fathers to reveal them in a new light: as true and worthy role models—even for us in our modern lives—who have much to teach us about dealing with the anxieties, uncertainties, and sense of isolation that have become hallmarks of modern life. They especially embody valuable insights about community, about how to live together in an intimate and meaningful way. Williams makes these radical figures, who clearly have a special place in his heart, come to life in a new way for everyone.

The book includes an appendix of selections from the teachings of the Desert Fathers.
Praise For Where God Happens: Discovering Christ in One Another…
Williams, the Archbishop of Canterbury and leader of the Anglican Church, has penned a remarkable little book that makes it all both relevant and accessible. Even if the names of these monks and nuns are foreign to you, their pearls of wisdom are not. This is a great introduction to the early hermits. For those interested in learning more, the book ends with a wonderful chapter on monastic wisdom, with detailed notes and suggestions for further reading."—The Plain Dealer (Cleveland)

"Rowan Williams is a scholar and priest, a mystic and a poet, a contemplative and an advocate for social justice—all rare combinations for a church leader.  In Where God Happens, he combines his roles by examining the ancient wisdom of the Desert Fathers and interpreting the relevance of their teaching for Christian spirituality today. In the early monastics' search for the experience of God and an alternative style of community, he finds a new and deeper faith for the postmodern world. This compelling work of scholarship and spirituality shows why the Archbishop of Canterbury is truly a breath of fresh air and one of the most important and hopeful church leaders we have today."—Jim Wallis, editor of Sojourners magazine, author of God's Politics



"Rowan Williams calls for a Church renewed in contemplation. In the raucous circus of contemporary culture and religion nothing could be more important.  And this book is immensely practical—nailing us just where we are—teaching us that the spiritual life is 'not only about how prayer is to be experienced but about how humanity is to be understood.' There's a liberating sanity here in the simplicity of the message: 'our life is with our neighbor,' and 'being is communion.' This is required reading for spiritual pilgrims of all traditions."—Alan Jones, Dean of Grace Cathedral, San Francisco, author of Soul Making and Reimagining Christianity



"This book is a marvelous introduction to the first Christian monks, the Desert Fathers, and makes their wisdom available and relevant for the twenty-first century reader; but it does more, since it is written in the same spirit as the texts from the desert, that is, as a clear window that will give direct access to God."—Benedicta Ward, translator of Sayings of the Desert Fathers and The Wisdom of the Desert Fathers
New Seeds, 9781590303900, 192pp.
Publication Date: August 14, 2007
About the Author
Rowan Williams, the 104th Archbishop of Canterbury, is an acclaimed theologian, writer, and pastor, in addition to being the spiritual leader of the world's 100 million Anglicans. He was a lecturer at Cambridge University and held the Lady Margaret Chair of Divinity at Oxford University. He has been Canon Theologian of Leicester Cathedral, Bishop of Monmouth in the Church of Wales, and Archbishop of Wales. He is the author of several books, including The Dwelling of Light and A Ray of Darkness.