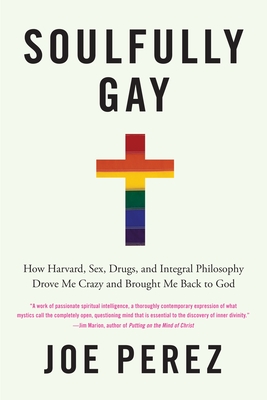 Soulfully Gay: How Harvard, Sex, Drugs, and Integral Philosophy Drove Me Crazy and Brought Me Back to God (Paperback)
How Harvard, Sex, Drugs, and Integral Philosophy Drove Me Crazy and Brought Me Back to God
Integral Publishing, 9781590304181, 328pp.
Publication Date: May 8, 2007
Description
"Soulfully Gay "is a personal memoir of an intellectually rigorous gay man wrestling with fundamental issues of meaning and self-acceptance. Joe Perez finds himself on a quest to understand what it means to be gay at the intersection of conflicts between homosexuality and Christianity, faith and skepticism, mysticism and madness. His journey unfolds amid challenges to his health as a recovering addict, a survivor of a psychotic episode, and a man living with AIDS. Joe is able to integrate seemingly contradictory elements his Roman Catholic upbringing versus his openly gay lifestyle, his authentic mystical experiences versus the delusions for which he was hospitalized. With a solid understanding of theology and an ability to see through the veils of political correctness, Joe brings a new level of intellect and understanding to the challenges of being a gay man.
About the Author
Joe Perez is a Seattle-based writer, the author of "Rising Up: Reflections on Gay Culture, Politics, and Spirit," and the founder of the Gay Spirituality and Culture weblog. His columns and articles on spirituality have appeared in numerous gay newspapers nationwide.
Praise For Soulfully Gay: How Harvard, Sex, Drugs, and Integral Philosophy Drove Me Crazy and Brought Me Back to God…
"Perez's account leaps from memoir to book review to exposition to interview. . . . His most successful entries are his psychedelic descriptions of madness. This is an arresting record of a soul in progress."—Publishers Weekly


"Perez is certainly not the first writer to try to find a unique mixture of alternate sexuality and religiosity, but his memoir has the heat and immediacy of the blog from which it developed. As Perez comes to terms with illness, loneliness, and the spirit, he also shows us a part of the future of reading and publishing—the voyeuristic thrills of blog diaries and a continual dialog between print and electronic media."—Library Journal



"An author of unstoppable courage, Joe Perez is unafraid to question any and all assumptions about spirituality, sexuality, homosexuality, and himself, writing with probing analysis and common sense. Soulfully Gay is a brave act of self-examination and self-revelation as well as a valuable addition to the growing body of literature that explores the spiritual meaning of same-sex love. To read Perez's journal is to accompany him on his spiritual journey."—David Carter, author of Stonewall: The Riots That Sparked the Gay Revolution

"Joe Perez's book is perhaps the most astonishing, brilliant, and courageous look at the interface between individual belief and cultural values that has been written in our times by a homosexual, or a heterosexual, or any other sexual I am aware of."—Ken Wilber, author of A Theory of Everything
 
Advertisement