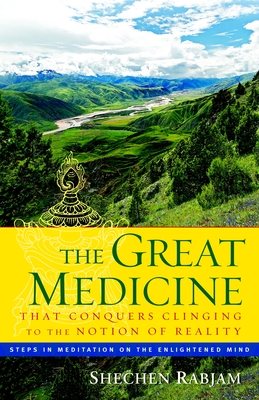 The Great Medicine That Conquers Clinging to the Notion of Reality: Steps in Meditation on the Enlightened Mind (Paperback)
Steps in Meditation on the Enlightened Mind
Shambhala Publications, 9781590304402, 142pp.
Publication Date: June 12, 2007
Description
In these inspiring teachings on how to open the heart, a contemporary Tibetan Buddhist master shows us how to change our self-centered attitude and develop concern for the well-being of others. He teaches that when we acknowledge our own wish for happiness, we realize that all beings wish for the same. With a broader perspective, we can develop the strength to extend gratitude and kindness first to those we love, and eventually to everyone.
In his warm and informal style, Rabjam offers accessible Buddhist teachings that will appeal to anyone who would like to find more meaning in life. Based on classical Tibetan teachings, his commentary is fresh, humorous, and sharply insightful. Here is a modern Tibetan teacher who appreciates the challenges of living in today's world. "The Great Medicine" will help contemporary readers draw on ancient teachings to find their way to wisdom, freedom, and joy amid the struggles of real life.
About the Author
Born in 1966, Shechen Rabjam is an accomplished Tibetan Buddhist teacher. The grandson and spiritual heir of the great twentieth-century meditation master Dilgo Khyentse, Rabjam is the abbot of Shechen monasteries in Nepal and India, supervises the Shechen Orgyan Chozong Nunnery in Bhutan, and leads various humanitarian aid projects in Tibet, Nepal, and India.
Praise For The Great Medicine That Conquers Clinging to the Notion of Reality: Steps in Meditation on the Enlightened Mind…
"Clear and well-organized, serious Buddhist students will welcome the fresh opening to an important Tibetan Buddhist text—it's good medicine."—Publishers Weekly



"Rabjam Rinpoche's teachings stand out as particularly moving in their simplicity and genuineness. He speaks from his heart in a simple, unpretentious, yet powerful way. This is a concise, profound, and elegant elucidation of the enlightened mind."—Matthieu Ricard, author of Happiness: A Guide to Developing Life's Most Important Skill
Advertisement