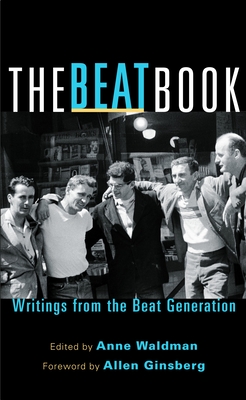 The Beat Book: Writings from the Beat Generation (Paperback)
Writings from the Beat Generation
Shambhala Publications, 9781590304556, 376pp.
Publication Date: July 10, 2007
Description
The Beat movement exploded into American culture in the early 1950s with the force of prophecy. Not just another literary school, it was an artistic and social revolution. William S. Burroughs proclaimed that the Beat writers were -real architects of change. There is no doubt that we're living in a freer America as a result of the Beat literary movement, which is an important part of the larger picture of cultural and political change in this country during the last forty years, when a four-letter word couldn't appear on the printed page and minority rights were ridiculous.-
Anne Waldman, a renowned poet and longtime friend of many of these writers, has gathered in this volume a range of the best and most exemplary writings of the Beat poets and novelists. Selections from the Beat classics appear, as well as more recent prose and poetry demonstrating the continued vitality of the Beat experiment. Included are short biographies of the contributors, an extensive bibliography of Beat literature, and a unique guide to -Beat places- around the world--from Kerouac's hometown of Lowell, Massachusetts, where his novel Dr. Sax takes place, to Tangier, where Burroughs wrote parts of Naked Lunch.
About the Author
Anne Waldman is a cofounder with Allen Ginsberg of the Jack Kerouac School of Disembodied Poetics at Naropa University, which began in 1974, and chair of its celebrated Summer Writing Program. She is the author of over forty books of poetry and poetics including the classic Fast Speaking Woman; the epic poem Iovis; Marriage: A Sentence; and a collection of essays entitled Vow to Poetry. She is the coeditor of several major anthologies including The Angel Hair Anthology and Civil Disobediences: Poetics and Politics in Action. In addition to her teaching, editing, and archival work, she is an internationally known performer/vocalist of her own work, and a cultural and political activist.
Praise For The Beat Book: Writings from the Beat Generation…
"The Beats, that is, Jack Kerouac, Allen Ginsberg, William Burroughs, Gregory Corso, Diane di Prima, and Michael McClure, to name a core group, are finally being accorded the attention they deserve; they constituted, after all, a major, lastingly influential arts movement. . . . The fact that Waldman's book is of such high quality is no surprise; a poet herself, she cofounded the Jack Kerouac School of Disembodied Poetics in Boulder, Colorado."—Booklist
Advertisement