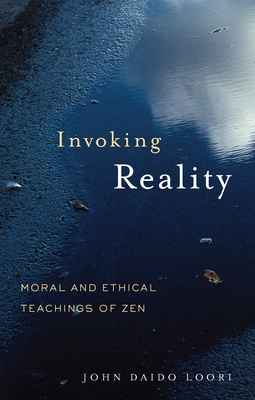 Invoking Reality: Moral and Ethical Teachings of Zen (Paperback)
Moral and Ethical Teachings of Zen
Shambhala Publications, 9781590304594, 97pp.
Publication Date: June 19, 2007
Description
There is a common misconception that to practice Zen is to practice meditation and nothing else. In truth, traditionally, the practice of meditation goes hand-in-hand with moral conduct. In "Invoking Reality," John Daido Loori, one of the leading Zen teachers in America today, presents and explains the ethical precepts of Zen as essential aspects of Zen training and development.
The Buddhist teachings on morality--the precepts--predate Zen, going all the way back to the Buddha himself. They describe, in essence, how a buddha, or awakened person, lives his or her life in the world.
Loori provides a modern interpretation of the precepts and discusses the ethical significance of these vows as guidelines for living. "Zen is a practice that takes place within the world," he says, "based on moral and ethical teachings that have been handed down from generation to generation." In his view, the Buddhist precepts form one of the most vital areas of spiritual practice.
About the Author
John Daido Loori (1931-2009) was one of the West's leading Zen masters. He was the founder and spiritual leader of the Mountains and Rivers Order and abbot of Zen Mountain Monastery. His work has been most noted for its unique adaptation of traditional Asian Buddhism into an American context, particularly with regard to the arts, the environment, social action, and the use of modern media as a vehicle of spiritual training and social change. Loori was an award-winning photographer and videographer. His art and wildlife photography formed the core of a unique teaching program that integrated art and wilderness training by cultivating a deep appreciation of the relationship of Zen to our natural environment. He was a dharma heir of the influential Japanese Zen master Taizan Maezumi Roshi and he authored many books.
Praise For Invoking Reality: Moral and Ethical Teachings of Zen…
Advertisement