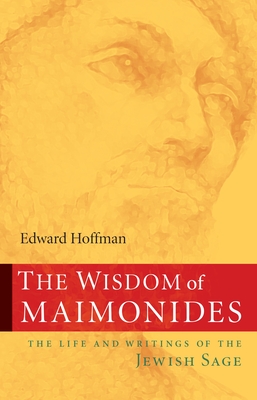 The Wisdom of Maimonides: The Life and Writings of the Jewish Sage (Paperback)
The Life and Writings of the Jewish Sage
Trumpeter, 9781590305171, 172pp.
Publication Date: December 31, 2008
Description
Here is an accessible introduction to the life and wisdom of the famous twelfth-century philosopher-physician Moses Maimonides, whose prolific writings on medical and religious issues, commentaries on Jewish texts, and writings on Jewish ethics and law profoundly influenced Judaism.

The Wisdom of Maimonides includes a biography; a section of selected teachings drawn from Maimonides' major works The Guide for the Perplexed and the Mishneh Torah, as well as his other writings; and tales about Maimonides' colorful life as a court physician and rabbinic leader.
About the Author
Edward Hoffman is the author of numerous books on Judaism, Kabbalah, and psychology. He is a psychologist and adjunct professor at Yeshiva University in New York City. He writes extensively for leading Jewish newspapers and magazines, including the "National Jewish Post & Opinion," and the "Jewish Week," and his articles have appeared in "New York Newsday" and "Yoga Journal."
Praise For The Wisdom of Maimonides: The Life and Writings of the Jewish Sage…
"For many Jews today, Maimonides is known by reputation but little else. In this splendid and lucid book, his life and teachings are made accessible to the contemporary reader."—Rabbi Zalman M. Schachter-Shalomi, author of Jewish with Feeling and Credo of a Modern Kabbalist

"Hoffman's clear prose and piercing insights into the wisdom of Maimonides make this book a must-read for anyone interested in plumbing the depths of one of the greatest religious thinkers of all time."—Rabbi Niles Elliot Goldstein, author of Gonzo Judaism: A Bold Path for Renewing an Ancient Faith

"Although there are many books on the Rambam, Dr. Hoffman's volume makes me feel like I am just beginning to discover the spiritual wisdom of this great sage. This is a deep and profound work."—Arthur Kurzweil, author of On the Road with Rabbi Steinsaltz

"An outstanding book for those being introduced to Maimonides, or those who want to refresh their memory, and dig a bit deeper into the life and thought of the greatest Jewish thinker of the Middle Ages."— Jewish Media Review, http://jewishbookreview.wordpress.com/

 
Advertisement