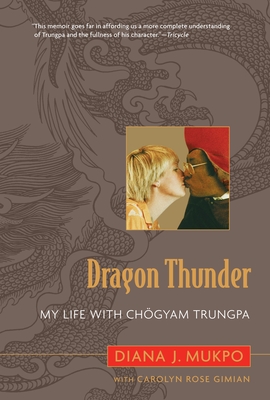 Dragon Thunder
My Life with Chogyam Trungpa
Paperback

* Individual store prices may vary.
Description
"It was not always easy to be the guru's wife," writes Diana Mukpo. "But I must say, it was rarely boring." At the age of sixteen, Diana Mukpo left school and broke with her upper-class English family to marry Chögyam Trungpa, a young Tibetan lama who would go on to become a major figure in the transmission of Buddhism to the West. In a memoir that is at turns magical, troubling, humorous, and totally out of the ordinary, Diana takes us into her intimate life with one of the most influential and dynamic Buddhist teachers of our time.

Diana led an extraordinary and unusual life as the "first lady" of a burgeoning Buddhist community in the American 1970s and '80s. She gave birth to four sons, three of whom were recognized as reincarnations of high Tibetan lamas. It is not a simple matter to be a modern Western woman married to a Tibetan Buddhist master, let alone to a public figure who is sought out and adored by thousands of eager students. Surprising events and colorful people fill the narrative as Diana seeks to understand the dynamic, puzzling, and larger-than-life man she married—and to find a place for herself in his unusual world.

Rich in ambiguity, Dragon Thunder is the story of an uncommon marriage and also a stirring evocation of the poignancy of life and of relationships—from a woman who has lived boldly and with originality.
Praise For Dragon Thunder: My Life with Chogyam Trungpa…
"The unorthodox love story at the heart of Dragon Thunder offers universal lessons in the transformative power of love and devotion."—Shambhala Sun

"The value of this book is to open household doors and tell a page-turning family story by which the controversial guru Chögyam Trungpa can be better understood."—Publishers Weekly

"Endows the reader with a sense of familiarity that refreshes and challenges our conception of diversity within tradition."—Tricycle

"Gives readers a fresh yet intimate view of Trungpa and invites us to see the female strength that so often lies behind the man."—Inquiring Mind

"A 'warts and all' account of a most extraordinary marriage and the collision of Tibetan and Western cultures. An intimate and unflinching portrait, it contains many surprises and demonstrates Trungpa's undoubted genius for creating very provoking teaching situations."—Middle Way

"Diana Mukpo has written a deeply intimate, insightful, raw and moving account of her life with her late husband. I don't think it would be possible to capture the essence of Chögyam Trungpa more accurately and beautifully than she has done here."—Dzigar Kongtrül, author of It's Up to You: The Practice of Self-Reflection on the Buddhist Path

"A delightful and unusual book. Diana Mukpo offers readers new understandings of the life and teachings of Chögyam Trungpa Rinpoche, a remarkable person and irreplaceable teacher."—Pema Chödrön, author of When Things Fall Apart

"An intimate and frank telling of the life of one of the great spiritual teachers of the twentieth century. Diana Mukpo's extraordinary story as wife, lover, and friend to Chögyam Trungpa reveals her to be a courageous, independent woman with a depth of understanding of her husband's life and teaching. More than just a history, it is a timeless illumination of the genuine Buddhist path."—Melvin McLeod, editor of The Best Buddhist Writing series

"This candid and unsparing book offers up wisdom, courage, and compassion, but also engages the reader in a journey far beyond the normal frames of reference for what spiritual experience actually is. An extraordinary love story as well as a remarkable portrait of a great spiritual teacher."—Rudy Wurlitzer, novelist and author of numerous screenplays including The Little Buddha

"Taking us into the heart of Chögyam Trungpa's crazy wisdom, exposing us to his genius and the 'craziness' which I at least was never sure was not his madness, Dragon Thunder is a wild and unfathomable story, as heartbreaking and irresistible as Don Quixote. As a dharma book, its mix of sadness and wisdom is so complete that reading it becomes a practice in itself."—Lawrence Shainberg, author of Ambivalent Zen: One Man's Adventures on the Dharma Path
Shambhala, 9781590305348, 432pp.
Publication Date: February 26, 2008
About the Author
Diana J. Mukpo was born in England in 1953. She attended the prestigious Benenden School until she left at the age of sixteen to marry the Tibetan Buddhist teacher Chögyam Trungpa Rinpoche. Mrs. Mukpo moved to the United States in 1970, where she remained with Trungpa Rinpoche until his death in 1987. During their marriage, she pursued intensive study of dressage. She is now the owner and director of Windhorse Dressage, and she travels and teaches dressage clinics throughout the United States and Canada.