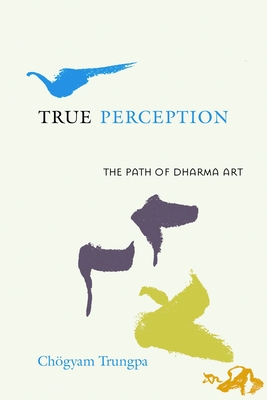 True Perception: The Path of Dharma Art (Paperback)
The Path of Dharma Art
Shambhala Publications, 9781590305881, 204pp.
Publication Date: November 11, 2008
Description
Genuine art has the power to awaken and liberate. The renowned meditation master and artist Chogyam Trungpa called this type of art dharma art any creative work that springs from an awakened state of mind, characterized by directness, unselfconsciousness, and nonaggression. Dharma art provides a vehicle to appreciate the nature of things as they are and express it without any struggle or desire to achieve. A work of dharma art brings out the goodness and dignity of the situation it reflects dignity that comes from the artist's interest in the details of life and sense of appreciation for experience. Trungpa shows how the principles of dharma art extend to everyday life: any activity can provide an opportunity to relax and open our senses to the phenomenal world.
An expanded edition of Trungpa's Dharma Art (1996), this book includes a new introduction and essay.
About the Author
Chogyam Trungpa (1940 1987) meditation master, teacher, and artist founded Naropa University in Boulder, Colorado, the first Buddhist-inspired university in North America; the Shambhala Training program; and an international association of meditation centers known as Shambhala International. He is the author of numerous books including Shambhala: The Sacred Path of the Warrior, Cutting Through Spiritual Materialism, and The Myth of Freedom."
Praise For True Perception: The Path of Dharma Art…
"Trungpa's notion of dharma art is an approach to art as meditation, an attitude of directness and unselfconsciousness in creative work. Lief's inspired selection and careful editing make this an essential book for those committed to view that the artist should be a spiritual teacher."—Publishers Weekly
Advertisement