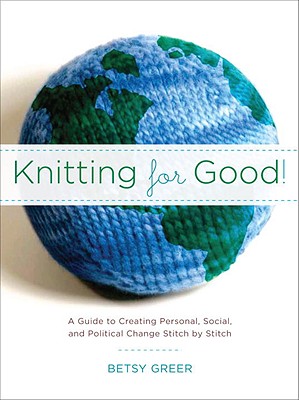 Knitting for Good!: A Guide to Creating Personal, Social, and Political Change Stitch by Stitch (Paperback)
A Guide to Creating Personal, Social, and Political Change Stitch by Stitch
Roost Books, 9781590305898, 228pp.
Publication Date: November 11, 2008
* Individual store prices may vary.
or
Not Currently Available for Direct Purchase
Description
Every time we knit, we have the opportunity to create positive change in ourselves, our community, and in the world. That's Betsy Greer's fervent belief, and in this book she shows us how. Betsy explores the ways we can use knitting to slow down in a fast-paced culture, while using the craft to benefit charities in our communities, to advocate for worthwhile causes, and to support individuals and communities across the globe. Filled with insights from knitters and crafters on how they use craft to benefit others, Knitting for Good will get you thinking about knitting in a whole new way. To learn more about the author, visit her website: craftivism.com.
About the Author
Betsy Greer is the founder of Craftivism.com, where she writes about the role craft can play in activism. Widely known in craft circles, she has contributed to a number of books, including Super Crafty, Get Crafty, Making Stuff, The Crafter Culture Handbook, DIY: The Rise of Lo-Fi Culture, Bead Simple, and Handmade Nation, and has written for Vogue Knitting.
Praise For Knitting for Good!: A Guide to Creating Personal, Social, and Political Change Stitch by Stitch…
"Knitting for Good! is thought-provoking, asking us to examine our ideas and preconceptions about the craft of knitting and the use of the work of our hands to benefit others."—Tara Jon Manning, author of Mindful Knitting



"Knitting for Good! provides a platform for progressive, forward-thinking knitters and non-knitters alike who are interested in the idea that creativity can be a positive way to change the world we live in. It is chock-full of motivation, ideas, and inspiration to get you going or to keep you on the path you are already on."—Faythe Levine, director of the documentary, and coauthor of the book, Handmade Nation
Advertisement