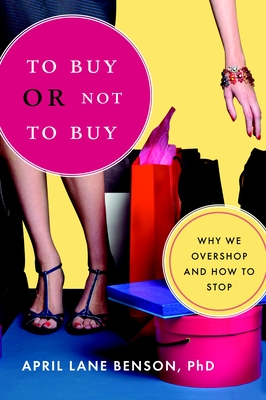 To Buy or Not to Buy: Why We Overshop and How to Stop (Paperback)
Why We Overshop and How to Stop
Trumpeter, 9781590305997, 280pp.
Publication Date: December 30, 2008
* Individual store prices may vary.
or
Not Currently Available for Direct Purchase
Description
Are you a shopaholic?
Do you use shopping as a quick fix for the blues?
Do you often buy things that you don t need or can t afford?
Do your buying binges leave you feeling anxious or guilty?
Is your shopping behavior hurting your relationships?
Have you tried to stop but been unable to?
If so, you are not alone. Nearly 18 million Americans are problem shoppers, unable to break the buying habits that lead them into debt, damaged relationships, and depression. If this describes you, or someone you care about, the help you need is here.
Drawing on recent research and on decades of working with overshoppers, Dr. April Benson brings together key insights with practical strategies in a powerful program to help you stop overshopping. As you progress through this book, you ll take back control of your shopping and spending and create a richer, more meaningful and satisfying life.
To learn more about the author, visit her website: www.stoppingovershopping.com.
About the Author
April Lane Benson, PhD, is a nationally known psychologist who specializes in the treatment of compulsive buying disorder. She has appeared on several national television programs including the Today Show, Good Morning America, and the CBS Evening News.
Praise For To Buy or Not to Buy: Why We Overshop and How to Stop…
"This warm, wonderful book provides a road map for making the journey from overshopping to full recovery and life balance. I particularly enjoyed the use of mindfulness techniques. Every overshopper needs this book!"—Olivia Mellan, Overcoming Overspending

"An extremely helpful book. Dr. Benson provides a practical, step-by-step method for recognizing, controlling, and finally stopping a shopping problem. I recommend it without hesitation."—Lorrin Koran, MD, Stanford University Medical Center

"If you are a compulsive or chronic shopper—as millions are—this book may well save your sanity, your relationships, your marriage, or even your life."—Jerold Mundis, author of How to Get Out of Debt, Stay Out of Debt, and Live Prosperously

"This book instructs wisely about the problem of compulsive buying and how it might be reasonably overcome."—New England Psychologist
Advertisement