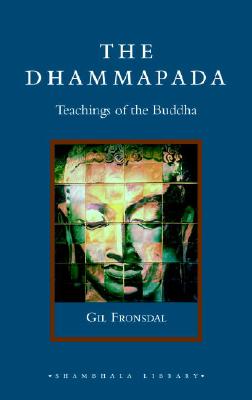 The Dhammapada: Teachings of the Buddha (Hardcover)
Teachings of the Buddha
Shambhala Publications, 9781590306062, 146pp.
Publication Date: October 14, 2008
* Individual store prices may vary.
or
Not Currently Available for Direct Purchase
Description
The Dhammapada is the most widely read Buddhist scripture in existence, enjoyed by both Buddhists and non-Buddhists. This classic text of teaching verses from the earliest period of Buddhism in India conveys the philosophical and practical foundations of the Buddhist tradition. The text presents two distinct goals for leading a spiritual life: the first is attaining happiness in this life (or in future lives); the second goal is the achievement of spiritual liberation, freedom, and absolute peace. This translation from Insight Meditation teacher and Pali translator Gil Fronsdal is both highly readable and scholarly authoritative. With extensive explanatory notes, this edition combines a rigorous attention to detail in bringing forth the original text with the translator's personal knowledge of the Buddhist path. It is the first truly accurate and highly readable translation of this text to be published in English.
Praise For The Dhammapada: Teachings of the Buddha…
"At last a translation of the Dhammapada that combines academic precision in the translation of Pali terms, literary sensitivity to phrasing and meter, and a heartfelt commitment to Buddhist practice. Gil Fronsdal's version of this classic text will set a new standard for scholars and practitioners alike."—Stephen Batchelor, author of Buddhism without Beliefs and Living with the Devil

"The language is clear, precise, and inspiring, the phrasing spare and elegant, and the depth of these wisdom teachings apparent on every page. Gil's wonderful work brings these timeless passages of the Buddha right into our hearts. Highly recommended."—Joseph Goldstein, author of One Dharma: The Emerging Western Buddhism

"The wish-fulfilling gem of clarity reveals itself; ancient teachings resonate with today's awareness. What a blessing!"—Edward Espe Brown, Zen Priest, author of The Tassajara Bread Book and editor of Not Always So

"A fine new translation of an ancient classic. Fronsdal's balance of fidelity to the text and sensitivity to its spirit is perfect. A book to be treasured."—Carl Bielefeldt, Stanford University
Advertisement