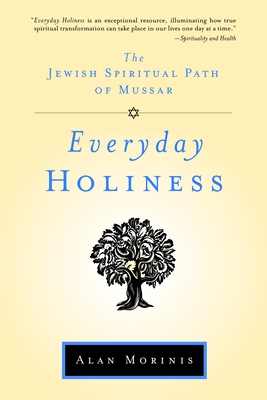 Everyday Holiness (Paperback)
The Jewish Spiritual Path of Mussar
Trumpeter, 9781590306093, 352pp.
Publication Date: December 2, 2008
Other Editions of This Title:
MP3 CD (6/7/2016)
* Individual store prices may vary.
Description
Mussar is an illuminating, approachable, and highly practical set of teachings for cultivating personal growth and spiritual realization in the midst of day-to-day life. Here is an accessible and inspiring introduction to this Jewish spiritual path, which until lately has been best known in the world of Orthodox Judaism. The core teaching of Mussar is that our deepest essence is inherently pure and holy, but this inner radiance is obscured by extremes of emotion, desire, and bad habits. Our work in life is to uncover the brilliant light of the soul. The Mussar masters developed transformative teachings and practices—some of which are contemplative, some of which focus on how we relate to others in daily life—to help us to heal and refine ourselves.
About the Author
Alan Morinis completed his doctorate at Oxford University, which he attended on a Rhodes Scholarship. A producer of award-winning television and film, he has been a student of the Mussar tradition since 1997, studying under Rabbi Yechiel Yitzchok Perr. Alan is the founder and director of the Mussar Institute, an organization that promotes the study of Mussar through study groups, courses, and public talks. He lives in Vancouver, British Columbia, with his wife and two daughters.
Praise For Everyday Holiness: The Jewish Spiritual Path of Mussar…
"You don't have to be Jewish to appreciate this way of refining and elevating your inner life and outward actions. Everyday Holiness is an exceptional resource, illuminating how true spiritual transformation can take place in our lives one day at a time."—Spirituality and Health

"Clear and delightfully illustrated. Readers of any religion should take their time with this engaging tome of wisdom, lore, and suggested practice."—Publishers Weekly

"A readable, engaging, friendly book. . . . [Morinis] writes as one besotted with the Jewish path, but not so intoxicated as to forget the conventions of the secular. He's an accessible guide, and a sober one."—Jewish Daily Forward