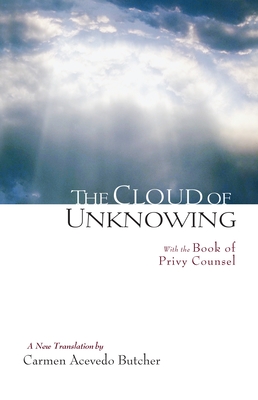 The Cloud of Unknowing: With the Book of Privy Counsel (Paperback)
With the Book of Privy Counsel
Shambhala Publications, 9781590306222, 276pp.
Publication Date: April 14, 2009
Description
This anonymous fourteenth-century text is the glory of English mysticism, and one of the most practical and useful guides to finding union with God ever written. Carmen Acevedo Butcher's new translation is the first to bring the text into a modern English idiom--while remaining strictly faithful to the meaning of the original Middle English. The Cloud of Unknowing consists of a series of letters written by a monk to his student or disciple, instructing him (or her) in the way of Divine union. Its theology is presented in a way that is remarkably easy to understand, as well as practical, providing advice on prayer and contemplation that anyone can use. Previous translations of the Cloud have tended to veil its intimate, even friendly tone under medieval-sounding language. Carmen Butcher has boldly brought the text into language as appealing to modern ears as it was to its original readers more than five hundred years ago. Also included in the volume is the companion work attributed to the same anonymous author, The Book of Privy Counsel, which contains further advice for approaching God in a way that emphasizes real experience rather than human knowledge.
About the Author
Carmen Acevedo Butcher is Associate Professor of Medieval and Renaissance Literature at Shorter College, Rome, Georgia, where she is also Scholar-in-Residence. She has published numerous translations of Christian mystical classics, including Hildegard of Bingen: A Spiritual Reader, Man of Blessing: A Life of Benedict, Incandescence: 365 Readings with Women Mystics, and A Little Daily Wisdom: Christian Women Mystics.
Praise For The Cloud of Unknowing: With the Book of Privy Counsel…
"This classic deserves to be read by every age in its own cultural idiom. Dr. Butcher has done just that and has preserved a valuable treasure for our time. This is the book that balances our lust for knowing with the freedom of not needing to know at all!"—Richard Rohr, OFM, author of Radical Grace and Everything Belongs: The Gift of Contemplative Prayer

"Brilliant, bold, and breathtaking. Carmen Acevedo Butcher is called to this work, and I have no doubt the anonymous author of The Cloud of Unknowing is the one calling her. I loved her sensitivity to the original Middle English, her fascinating background details, and her high level of accuracy. I am delighted that this passionate and readable new translation of the Cloud is on the planet!"—Cynthia Bourgeault, author of The Wisdom Jesus and Centering Prayer and Inner Awakening
Advertisement