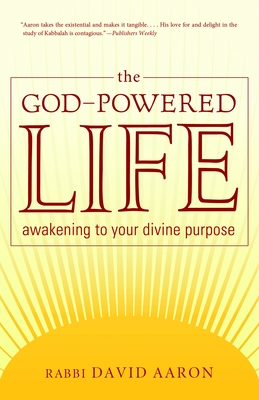 The God-Powered Life: Awakening to Your Divine Purpose (Paperback)
Awakening to Your Divine Purpose
Trumpeter, 9781590306529, 151pp.
Publication Date: February 9, 2010
Description
You are an individual expression of God; that's the teaching of the ancient Jewish mystical tradition. Here Rabbi David Aaron shows that when we truly connect to our inner self, that fact becomes wonderfully obvious. Each of us has a divine mission in life, he says, and when we understand this, we are empowered to take control of our life; to use our creative powers more fully; and to give more to others, our community, and the world.
In "The God-Powered Life," Rabbi Aaron uses Jewish mystical teachings, including the ten Sephirot, or attributes of God, to help us get in touch with our inner selves and find a deeper sense of our own self-worth. In his characteristic warm, witty, and accessible style, Rabbi Aaron helps us find a connection to the divine within ourselves and then shows us how to manifest that divine presence in our dealings with others and during tumultuous times.
About the Author
Rabbi David Aaron, the son of a Holocaust survivor, has struggled since early youth to understand the world's potential for hatred and paradoxical yearning for meaning, love, and creativity. His own spiritual journey led him to Israel, where he studied Torah and Jewish mysticism under the tutelage of the great masters. He received his rabbinical ordination in 1979 from the Israel Torah Research Institute (Yeshivat ITRI). A popular lecturer in North America and a frequent guest on radio and TV, he is the founder and dean of Isralight (www.isralight.org), an international organization with programs throughout North America, South Africa, and Israel. He lives in Jerusalem with his wife, Chana, and their seven children and three grandchildren. For more information visit www.rabbidavidaaron.com.
Praise For The God-Powered Life: Awakening to Your Divine Purpose…
"Aaron's gentle arguments make an effective appeal to the mystically inclined."—Library Journal


"The God-Powered Life shows us how to transform our ordinary everyday living into an extraordinary, powerful journey charged with divine passion and purpose."—Marianne Williamson, author of A Return to Love

"The God-Powered Life is filled with secrets to the ultimate meaning of a life plugged into God. If you long for happiness, wholeness, and inspiration, I highly recommend you read this book."—Debbie Ford, author of The 21-Day Consciousness Cleanse

"Rabbi David Aaron offers insight after insight on the most basic issues of human existence, insights that are life-transforming."—Rabbi Joseph Telushkin, author of Jewish Literacy
Advertisement