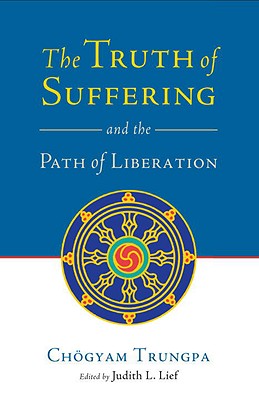 The Truth of Suffering and the Path of Liberation (Hardcover)
Shambhala, 9781590306680, 160pp.
Publication Date: April 14, 2009
* Individual store prices may vary.
or
Not Currently Available for Direct Purchase
Description
The truth of life has never been better or more succinctly articulated than in the Buddha's teaching on suffering, its cause, and its cessation--the famous formulation known as the Four Noble Truths. This concise handful of words is in fact the foundation from which all subsequent Buddhist teachings grow, and upon which all of them rely. Their wisdom is as pertinent to the scholar of Buddhist philosophy as it is to the ordinary practitioner, as it is indeed to anyone, anywhere, who aspires to liberation. Chogyam Trungpa's in-depth exploration of the Four Noble Truths reveals the subtlety and sophistication that lie beneath these deceptively simple teachings. He emphasizes their profound relevance not just as an inspiration when we set out on the path but at every other moment of our lives as well, showing how we can join view (intellectual understanding) of the teaching with practical application in order to interrupt suffering before it arises. His teaching is, as always, refreshingly direct and profoundly inspiring. The Truth of Suffering is an ideal introduction to the Four Noble Truths for the beginner as well as for the experienced practitioner in search of deeper understanding.
About the Author
Chogyam Trungpa (1940-1987)--meditation master, teacher, and artist--founded Naropa University in Boulder, Colorado, the first Buddhist-inspired university in North America; the Shambhala Training program; and an international association of meditation centers known as Shambhala International. He is the author of numerous books including Shambhala: The Sacred Path of the Warrior, Cutting Through Spiritual Materialism, and The Myth of Freedom.
Praise For The Truth of Suffering and the Path of Liberation…
"This wonderful book presents the Four Noble Truths of Buddhism in a way that is completely fresh and original while at the same time never losing contact with traditional sources. I was extremely fortunate to have Chögyam Trungpa Rinpoche as my root teacher, and I'm so glad this new book of teaching is available so that readers can continue to benefit from his profound understanding."—Pema Chödrön


"An invaluable resource for anyone seeking the truth. With disarming honesty and humor, Trungpa Rinpoche guides us through the Buddha's teachings, bringing us face to face with our many misconceptions and our true potential."—Sharon Salzberg

"Trungpa Rinpoche has taken up one of the most fundamental Buddhist teachings and offered us layer after layer of insight and understanding. His mastery of the dharma reveals within this apparently simple teaching a ceaseless  profundity of inestimable value for both beginners and advanced practitioners."—John Daido Loori

"In this book we can hear Rinpoche's uncontrived, genuine voice illuminating the fundamental teachings of Buddhism on the cycle of suffering and freedom from suffering—profoundly inspiring all of us."—Tulku Thondup Rinpoche
Advertisement