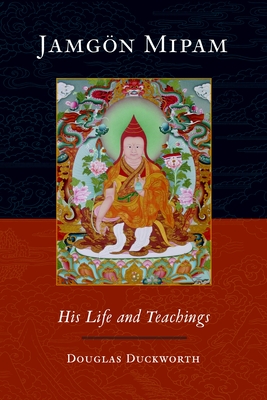 Jamgon Mipam: His Life and Teachings (Paperback)
His Life and Teachings
Shambhala Publications, 9781590306697, 248pp.
Publication Date: December 20, 2011
Description
Jamgon Mipam (1846-1912) is one of the most extraordinary figures in the history of Tibet. Monk, mystic, and brilliant philosopher, he shaped the trajectory of Tibetan Buddhism's Nyingma school. This introduction provides a most concise entree to this great luminary's life and work. The first section gives a general context for understanding this remarkable individual who, though he spent the greater part of his life in solitary retreat, became one of the greatest scholars of his age. Part Two gives an overview of Mipam's interpretation of Buddhism, examining his major themes, and devoting particular attention to his articulation of the Buddhist conception of emptiness. Part Three presents a representative sampling of Mipam's writings.
About the Author
Jamgon Mipam (1846-1912) was one of the great luminaries of Tibetan Buddhism in modern times. He had a dominant and vitalizing influence on the Nyingma school and beyond. A scholar of outstanding brilliance and versatility, his translated works are eagerly anticipated by English-language readers.
Praise For Jamgon Mipam: His Life and Teachings…
"At last, a comprehensive study of Mipam, the Nyingma Lion, whose magisterial works bridged the scholastic and yogic traditions of Tibet. Beautifully written, Duckworth's book lucidly surveys Mipam's Buddhist philosophy and provides translated excerpts from Mipam's voluminous body of work that illustrate his erudite views. This is an exciting, accessible book we have been waiting for!"—Judith Simmer-Brown, Professor of Religious Studies, Naropa University, author of Dakini's Warm Breath       

"Like the sun shining in the sky, the writings of our kind protector, Lama Mipam, sparkle with the light of wisdom. I congratulate my student, Prof. Douglas Duckworth, for publishing this important book on the life and works of the great scholar-practitioner, and I believe the book will be of interest, not only to students of Tibetan Buddhism, but to anyone with a sincere interest in discovering the depths of Buddhist insight."—Chökyi Nyima Rinpoche, author of Present Fresh Wakefulness: A Meditation Manual on Nonconceptual Wisdom

"Douglas Duckworth gives historical background to important Buddhist discussions in India and Tibet that concerned Mipam, a survey of the philosophical themes that he addressed and a selection of translations from his impressive array of writings. Though the translations are excerpts from longer works, they are valuable reading for practitioners. As a condensed anthology on Mipam, this book strikes an important balance, explaining the thought of one of Tibet's great intellectuals while giving readers handpicked gems from Mipam's forest of wisdom."—Buddhadharma
Advertisement