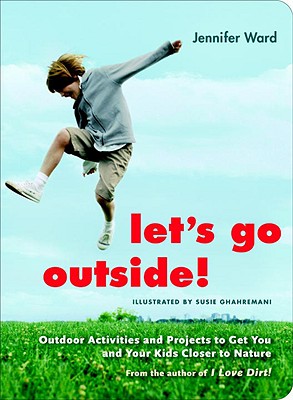 Let's Go Outside! (Paperback)
Outdoor Activities and Projects to Get You and Your Kids Closer to Nature
Roost Books, 9781590306987, 144pp.
Publication Date: July 14, 2009
* Individual store prices may vary.
Description
Engage your child in outdoor play, nature outings, and environmental explorations. Chase and be chased in a game of capture the flag. Use the power of the sun to craft your own shadow prints. Explore the stars on a late night walk. Create a field guide to your neighborhood.  Through 52 ideas—some classic and some new—Let's Go Outside! offers a range of activities perfect for children ages 8 to 12. Whether you're in the country, the city, or anywhere in between, this book is sure to help you get outside—and run, dance, hike, or camp—with your preteen.

Sections of the book include:

   • Back to Basics: Reconnecting with twists on traditional games and activities such as Capture the Flag
   • Making the Ordinary Extraordinary: Picnics, doing homework outdoors, and socializing opportunities outdoors
   • Outdoor Adventures: Canoeing, biking, and camping
   • Environmental Experiments: Ways to explore how nature works
About the Author
Jennifer Ward is the author of numerous children's books, all of which present nature to kids. Her award-winning titles have been featured in magazines such as Ranger Rick, Your Big Backyard, Learning, and Foreword, and she has been interviewed and featured on national television and local radio. She is a regular speaker at conferences and schools across the country, where she instills the importance of literacy and the wonders waiting to be discovered in the natural world.
or
Not Currently Available for Direct Purchase