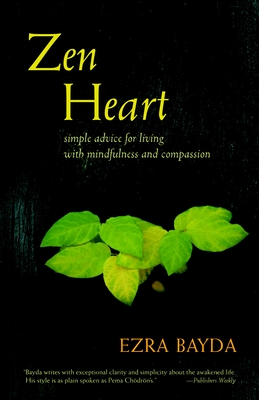 Zen Heart: Simple Advice for Living with Mindfulness and Compassion (Paperback)
Simple Advice for Living with Mindfulness and Compassion
Shambhala Publications, 9781590307229, 198pp.
Publication Date: August 11, 2009
Description
There's a secret to spiritual practice, and it's surprisingly simple: learn to be present with attention. Do that, and the whole world becomes your teacher, you wake up to the sacredness of every aspect of existence, and compassion for others arises without even thinking about it. In "Zen Heart," Bayda provides a wealth of practical advice for making difficult experiences a valued part of the path and for making mindfulness a daily habit.
About the Author
Ezra Bayda teaches at Zen Center San Diego. He is also the author of "Being Zen, At Home in the Muddy Water, Saying Yes to Life (Even the Hard Parts), " and "Zen Heart." For more information, visit www.zencentersandiego.org.
Praise For Zen Heart: Simple Advice for Living with Mindfulness and Compassion…
"Bayda writes with exceptional clarity and simplicity about the awakened life. His style is as plain spoken as Pema Chödrön's."—Publishers Weekly

"This book is like a personal retreat. I'd like to read it once a year. It has the best of the Zen spirit—not indulging but experiencing every ounce of life, good and bad. You will have to read closely, because the lessons are more difficult than they appear. At the same time it is a beautifully simple reflection on what it means to be, rather than to try to be. I'm certain of its wisdom because it is not there to be grasped and celebrated. The wisdom is all in the spaces, the pauses, and the wonderment."—Thomas Moore, author of Care of the Soul and A Life at Work

"A clear and comprehensive guide to life transformation. Readers will find down-to-earth advice and effective practices for going beyond basic fears and conditioning to live a more awakened and openhearted life."—Dennis Genpo Merzel, Roshi, author of Big Mind, Big Heart: Finding Your Way
Advertisement