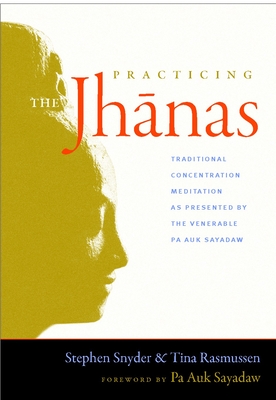 Practicing the Jhanas: Traditional Concentration Meditation as Presented by the Venerable Pa Auk Sayadaw (Paperback)
Traditional Concentration Meditation as Presented by the Venerable Pa Auk Sayadaw
Shambhala Publications, 9781590307335, 147pp.
Publication Date: December 1, 2009
Description
This is a clear and in-depth presentation of the traditional Theravadin concentration meditation known as jhāna practice, from two authors who have practiced the jhānas in retreat under the guidance of one of the great living meditation masters, Pa Auk Sayadaw. The authors describe the techniques and their results, based on their own experience.
About the Author
Stephen Snyder began practicing Zen Buddhism in 1976 and has had a daily meditation practice from that time on. He has practiced for twenty years with Western Zen masters. Stephen attended a two-month retreat with Ven. Pa Auk Sayadaw in 2005. He attained the eight jhanas (as well as other practices) in the span of the retreat, becoming the first American male to complete this attainment in the lineage of Ven. Pa Auk Sayadaw.
Praise For Practicing the Jhanas: Traditional Concentration Meditation as Presented by the Venerable Pa Auk Sayadaw…
"Finely constructed meditation manual."—Buddhadharma

"Clear and in-depth. Practicing the Jhanas explains difficult concepts and ideas in an accessible format and enriches the reader's understanding of meditation."—Yoga Magazine (UK)


"Stephen Snyder and Tina Rasmussen know what they write about in this book through their own direct experience as dedicated yogis. This book serves as a bridge for Westerners, as a conduit to the traditional teachings of the Buddha."—Venerable Pa Auk Sayadaw <p style="line-height: 150%;">"This is a unique road map to the extraordinary and transforming states of mind known as the jhanas. As a psychologist and as a practicing Buddhist, I recommend this book wholeheartedly."—Rick Hansen, PhD, co-author of Buddha's Brain: The New Neuroscience of Happiness, Love, and Wisdom

<p style="line-height: 150%;"> "Practicing the Jh?nas is a wonderful addition to our understanding of concentration practice. Tina Rasmussen and Stephen Snyder draw on a wealth of personal experience to clearly elucidate and fine-tune this profound meditative path. Highly recommended."—Joseph Goldstein, author of A Heart Full of Peace and One Dharma <p style="line-height: 150%;"> "A fascinating look at the inner experience of jh?na meditation as taught by the Ven. Pa Auk Sayadaw. Tina and Stephen are among a very few Western students of Sayadaw who can speak authoritatively about these profound levels of concentration. Their work is a most valuable addition to the contemporary literature of Theravadin Buddhism."—Guy Armstrong, teacher, Spirit Rock Meditation Center <p style="line-height: 150%;"> "This book will be of interest to any dedicated meditator, regardless of their style of practice. It provides a valuable contribution to the growing understanding of jh?na and its important place in Buddhist meditation."—Richard Shankman, author of The Experience of Samadhi
Advertisement