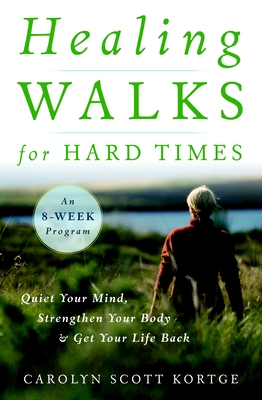 Healing Walks for Hard Times: Quiet Your Mind, Strengthen Your Body, and Get Your Life Back (Paperback)
Quiet Your Mind, Strengthen Your Body, and Get Your Life Back
Trumpeter, 9781590307403, 222pp.
Publication Date: August 10, 2010
Description
Sometimes life's hurdles literally stop us in our tracks, sapping vitality and preventing us from participating fully in our own lives and the lives of those we love. Carolyn Scott Kortge recognizes that a key to joyous re-engagement with the world can be--just as literally--to get moving again. With a focus on walking for wellness, Kortge outlines a compassionate, practical program for navigating your way through life's physical, emotional, and spiritual hard times.
Within the supportive framework of this eight-week walking program you set your own pace, taking steps that restore a sense of balance and order, even if you're weighed down by the lethargy and loss of control that often accompany illness, depression, or trauma. Discover how to link mental focus with physical movement to create healing periods of stress release. Learn to match your steps with meditation in a way that clears a path through confusion. Move forward, literally, both in good times and in tough ones, with mental and physical steps that lead you away from fear or stress and guide you toward wellness and peace. Engage in a path to recovery that attends to not just the physical, but also acknowledges healing as an emotional, spiritual, and mental journey--a journey of survivorship.
About the Author
Carolyn Scott Kortge is an award-winning journalist, a former competitive race walker, and a cancer survivor. Kortge's Walking Well(R) program has been presented at medical centers, wellness events, survivor conferences, and health resorts and spas across the country. She is the author of The Spirited Walker: Fitness Walking for Clarity, Balance, and Spiritual Connection.
Praise For Healing Walks for Hard Times: Quiet Your Mind, Strengthen Your Body, and Get Your Life Back…
"Few things are as healing as a good walk. I heartily endorse Healing Walks for Hard Times."—Christiane Northrup, MD, author of Women's Bodies, Women's Wisdom

"Courageous, compassionate, and compelling, this wise guide to the healing power of walking elegantly demonstrates how simple steps can offer profound benefits."—Carol Krucoff, author of Healing Yoga for Neck and Shoulder Pain

"Reading Healing Walks for Hard Times is like travelling with a wise mother who understands the depths of anguish that can visit a life, but also has a literal and metaphoric road to healing that's available to all of us. Carolyn's advice is practical, lucid, and speaks to every aspect of our lives."—Dan Shapiro, PhD, author of Mom's Marijuana

"A jewel of a book for anyone who is seeking a healing balm.  [Kortge] delivers thoughtful treatments on the value of cognitive override in the battle against inertia, integrating mindfulness into your walks, the importance of silence during exercise, maintaining discipline, the value of self talks, the connection between wellness and movement, and the impact of walking on aging."—Spirituality & Practice
Advertisement