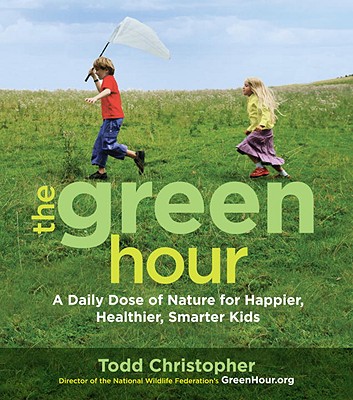 The Green Hour: A Daily Dose of Nature for Happier, Healthier, Smarter Kids (Paperback)
A Daily Dose of Nature for Happier, Healthier, Smarter Kids
Trumpeter, 9781590307564, 225pp.
Publication Date: March 16, 2010
* Individual store prices may vary.
or
Not Currently Available for Direct Purchase
Description
The National Wildlife Federation, on its website GreenHour.org, recommends that parents give their kids a "Green Hour" every day--a time for unstructured play and interaction with the natural world. Whether in the backyard, the local park, or a green space farther afield, time spent outdoors is essential to the healthy development of young minds, bodies, and spirits. Todd Christopher, the creator of the GreenHour.org, has filled this book with activities designed to encourage discovery, creative play, and a wonder of nature. Here you'll find a range of projects, fun facts, and science lessons meant to engage and invigorate your child, as well as the practical advice for parents that makes getting outdoors easy and worry-free. With creative, science-based ideas for a variety of natural settings, getting your family's daily dose of nature just got easier.
About the Author
Todd Christopher is the director of online media for the National Wildlife Federation's Green Hour website and their award-winning publications, including Ranger Rick, Your Big Backyard, and Wild Animal Baby. He and his family make a Green Hour part of their daily routine, and you often can find him on backyard adventures and hiking trails with his young son and daughter. He lives in the Washington, D.C., area.
Praise For The Green Hour: A Daily Dose of Nature for Happier, Healthier, Smarter Kids…
"Research has long proven the benefit of outdoor play, yet many continue to replace 'green time with screen time.' There have been several excellent activity guides this year (e.g., Jennifer Ward's Let's Go Outside!), and this joins the ranks. Enthusiastically recommended."—Library Journal (starred review)

"The Green Hour is excellent—inspiring, informative, practical."—Cheryl Charles, president and CEO, Children & Nature Network


"One age-level leap above the beloved little I Love Dirt! The activities are simple, but the information goes deep enough for curious school-age minds.  I love the way it offers both projects and clear information (why is there wind?) to help non-expert eyes see the natural world on a more intricate level.  Wherever you are—your yard, in the woods, at the beach—this book has absorbing activities for all ages."—KidoInfo.com


"With great élan and creativity, Christopher shares a broad crosscut of activities and ideas to make the most of explorations in your own backyard."—Spirituality & Practice

"Todd Christopher makes the case for outdoor exploration in the best possible way: by showing how it can be fun."—Dan Shapley, The Daily Green

"The Green Hour will help you find letterboxes, identify butterflies, get grass stains on your knees, and laugh more with your children."—David T. Sobel, author of Beyond Ecophobia

"Grounded in a solid understanding of how children learn through observation, play, and exploration, the activities suggested in this book offer a fun and practical road map for parents and children to deepen their knowledge and love of nature together."—Martha Farrel Erickson, founding board member, Children & Nature Network

"You don't have to be Ranger Rick to help your family connect with nature. All you need is one hour a day and this book."—Mary Dalheim, Ranger Rick magazine
"Whether you are a curious naturalist, an educator or a mentor or parent, this book is a basic primer for opening the nature connection doorway with simplicity and enthusiasm."—Out There Monthly
"Engaging.  Parents wanting to encourage a love of nature in their children won't go wrong with this book as its easy-to-do projects will have everyone racing for the door."— Montreal Families

"Written to inform and encourage, not to overwhelm or to preach. This book has it all."—Kids in the Valley, Adventuring

"Todd Christopher gets families out and having fun in this engagingly written guide full of games, crafts, experiments, and safety tips. Christopher knows how to pique and develop a kid's interest in the natural world."—Washington Parent
Advertisement