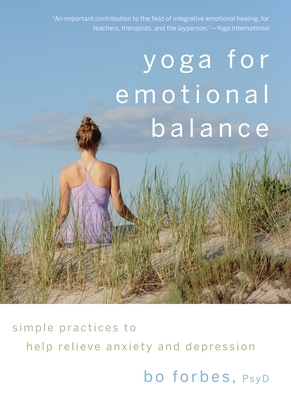 Yoga for Emotional Balance (Paperback)
Simple Practices to Help Relieve Anxiety and Depression
Shambhala, 9781590307601, 256pp.
Publication Date: March 8, 2011
* Individual store prices may vary.
Description
Emotional balance is within your reach—when you cultivate the intelligence of both your body and mind. Bo Forbes, a psychologist and yoga teacher, presents an integrative approach to healing anxiety, depression, and chronic stress. In this book, she offers some of her most important teachings and practices, including:

   • restorative yoga sequences designed to balance anxiety and lift depression
   • breath- and body-centered exercises to calm your mind and energize your body
   • simple ways to understand your emotional patterns
   • an overview of the three main obstacles to emotional well-being
   • five tools for building emotional balance
Rooted in classical yoga yet supported by psychology and science, the techniques in this book will help you create progressive and lasting change.
About the Author
Bo Forbes, PsyD, is a clinical psychologist, yoga teacher, and integrative yoga therapist whose background includes training in biopsychology, behavioral medicine, and stress management. She is the founder of Integrative Yoga Therapeutics, a system that specializes in the therapeutic application of yoga for anxiety, insomnia, depression, immune disorders, chronic pain, and physical injuries. Forbes conducts teacher trainings and workshops internationally, and writes frequently for magazines such as Yoga Journal, Body + Soul, and the International Journal of Yoga Therapy. For more information, visit her online at boforbes.com.
Praise For Yoga for Emotional Balance: Simple Practices to Help Relieve Anxiety and Depression…
"Forbes clearly and compassionately explains anxiety and depression and helps readers understand the process of healing. We can all benefit from these teachings."—LA Yoga


"This book is excellent—it 's timely, clear, and full of tools for creating emotional balance. I particularly love the restorative yoga sequences. They are close to miraculous, and everyone can do them."—Lilias Folan, PBS host and author of Lilias! Yoga Gets Better with Age

"Forbes has crafted a knowledgeable, realistic guide to addressing the physical and psychological aspects of anxiety and depression, explaining how we can use the body and mind in concert with each other to heal. To her credit, Forbes grounds her ideas and recommendations in sober observations (as both a therapist and a yoga teacher), scientific literature, and a bodhisattva 's compassion for human suffering. If you 're struggling with anxiety and depression, this book could point the way to wholeness and well-being."—Yoga Journal

"Bo Forbes has written more than just a book. She 's put together a step-by-step prescription that can be tailored to individual needs for the effective relief of the common modern-day maladies of stress, anxiety, and depression."—Richard Rosen, author of The Yoga of Breath

"Yoga for Emotional Balance teaches restorative poses and simple breathing techniques that, when practiced regularly, can put you on the path to feeling better."—Timothy McCall, MD, author of Yoga as Medicine

"[A] unique synthesis of yoga and psychology . . . this important contribution to the field of integrative emotional healing is informative for teachers and therapists, yet accessible to the lay person."—Yoga International