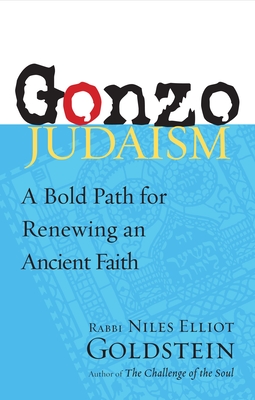 Gonzo Judaism: A Bold Path for Renewing an Ancient Faith (Paperback)
A Bold Path for Renewing an Ancient Faith
Trumpeter, 9781590307687, 182pp.
Publication Date: March 9, 2010
* Individual store prices may vary.
or
Not Currently Available for Direct Purchase
Description
Here is a book that is both clarion call for a new Jewish agenda and a blueprint for an adventurous but genuine path toward spiritual growth and religious wisdom. Rabbi Niles Elliot Goldstein, founder and Rabbi Emeritus of The New Shul in New York City, says that most conventional Jewish institutions are out-of-touch and have relied too much on nostalgia, guilt, and fear--none of which resonate with modern Jews. He challenges Jews to adopt the "gonzo" spirit--the rebellious, risk-taking attitude associated with the gonzo journalist Hunter S. Thompson--and to take creative, innovative steps to reshape and revitalize contemporary Judaism. Goldstein urges readers to take a fresh look at Judaism, to become educated about its history and tradition, to discover what is authentic, yet what also feels spiritually relevant and meaningful, and to create a Jewish culture and community rooted in affirmation, joy, and celebration. He provides a wealth of information on numerous organizations, institutions, synagogues, grassroots groups, and networks that can help get you started on the gonzo path.
About the Author
Rabbi Niles Elliot Goldstein is the founder and Rabbi Emeritus of The New Shul in New York City. His essays and poetry have appeared in various publications, including Newsweek, the Los Angeles Times, and the Forward. He has been featured in the New York Times, the Wall Street Journal, Glamour, Real Simple, and the Jewish Week, as well as on television and radio.
Praise For Gonzo Judaism: A Bold Path for Renewing an Ancient Faith…
"With this edgy, funny, wise book, Goldstein may just have found a way to ensure the survival of the religion for another 6,000 years."—Publishers Weekly

"Goldstein backs up the title [Gonzo Judaism] with a legitimately creative and irreverent idea about how to engage with Judaism anew: Look to the old. . . . This is clearly one promising rabbi: he has equal knowledge of (and appreciation for) both ancient tradition and contemporary life."—The Washington Post Book World

"Rabbi Goldstein has written a 'Fear and Loathing on the Torah Trail' that's kick-ass but also wise and full of good ideas for what ails American Judaism. He shows that the greatest reverence can come from irreverence."—Newsweek



"Goldstein's writing is quick and direct; he's bold enough to say things most Jews are afraid to utter."—Jewish Chronicle
Advertisement