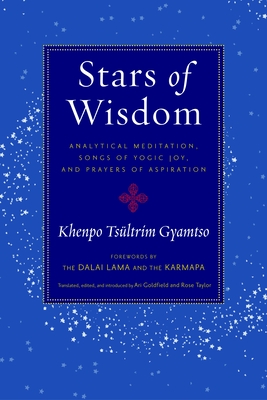 Stars of Wisdom: Analytical Meditation, Songs of Yogic Joy, and Prayers of Aspiration (Paperback)
Analytical Meditation, Songs of Yogic Joy, and Prayers of Aspiration
Shambhala Publications, 9781590307755, 175pp.
Publication Date: February 9, 2010
Description
Tibetan Buddhist master Khenpo Tsultrim Gyamtso is known for his joyful songs of realization and his spontaneous and skillful teaching style. In this book he explains how to gain clarity, peace, and wisdom through step-by-step analysis and meditation on the true nature of reality. He also introduces readers to the joy and profundity of yogic song, and reveals the power of aspiration prayers to inspire, transform, and brighten our hearts.
About the Author
Khenpo Tsultrim Gyamtso is a noted Buddhist scholar and teacher who was born in Eastern Tibet in 1934. Known for his highly engaging teaching style, he has traveled and taught in North America, Europe, and Asia from 1977 to 2007. He is the author of The Sun of Wisdom, The Moon of Wisdom, and Progressive Stages of Meditation on Emptiness, and numerous songs of realization."
Praise For Stars of Wisdom: Analytical Meditation, Songs of Yogic Joy, and Prayers of Aspiration…
"When we consider the remarkable achievements of Khenpo Tsültrim Gyamtso Rinpoche and his contribution to the Dharma, he is, without doubt, one of the great guides of our time."—The Seventeenth Gyalwang Karmapa

"A single word from a truly accomplished guru like Khenpo Rinpoche is worth a thousand pictures. These teachings will make an indelible imprint of nondual wisdom in the reader's mind that no 'delete button' of dualistic consciousness can undo."—Dzogchen Ponlop, author of Wild Awakening and Mind Beyond Death

"These teachings show us how the Buddhist path of view, meditation, and conduct can be practiced every day, all day, anywhere and everywhere. This book will instruct, delight, and inspire all who read it."—Elizabeth Callahan, translator of Jamgön Kongtrul's Treasury of Knowledge: Frameworks of Buddhist Philosophy
Advertisement