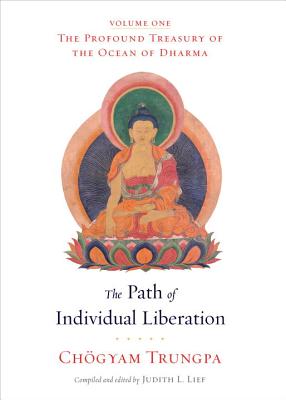 The Path of Individual Liberation: The Profound Treasury of the Ocean of Dharma, Volume One (Hardcover)
The Profound Treasury of the Ocean of Dharma, Volume One
Shambhala, 9781590308028, 680pp.
Publication Date: April 8, 2013
* Individual store prices may vary.
or
Not Currently Available for Direct Purchase
Description
The first volume of this landmark series presents the teachings of the hinayana. The hinayana introduces core Buddhist teachings on the nature of mind, the practice of meditation, the reality of suffering, and the possibility of liberation. It examines the nature of suffering, impermanence, and egolessness, with an emphasis on personal development through meditative discipline and study. The formal entry into the hinayana and the Buddhist path altogether is the refuge vow, in which a student goes for refuge to the Buddha, or the teacher; the dharma, or the teachings; and the sangha, or the community. The hinayana path is based on training in mindfulness and awareness, cultivating virtue, and cutting grasping. Topics covered in detail in this volume include the four noble truths, karma, the four foundations of mindfulness, meditation practice, the refuge vows, the three jewels, the five skandhas, the five precepts, twofold egolessness, and more. The Profound Treasury of the Ocean of Dharma represents meditation master Chogyam Trungpa's greatest contribution to Western Buddhism. This three-volume collection presents in lively, relevant language the comprehensive teachings of the Tibetan Buddhist path of the hinayana, mahayana, and vajrayana. This work will resonate with new students of Buddhism as well as the most senior students.
About the Author
Chogyam Trungpa (1940-1987)--meditation master, teacher, and artist--founded Naropa University in Boulder, Colorado, the first Buddhist-inspired university in North America; the Shambhala Training program; and an international association of meditation centers known as Shambhala International. He is the author of numerous books including Shambhala: The Sacred Path of the Warrior, Cutting Through Spiritual Materialism, and The Myth of Freedom.
Praise For The Path of Individual Liberation: The Profound Treasury of the Ocean of Dharma, Volume One…
"Chögyam Trungpa Rinpoche had a particular genius in presenting the Dharma to Western audiences. . . . These volumes display the far-reaching goodness that can be created in the world when compassion and devotion come together."—H.H. the Karmapa, Ogyen Trinley Dorje

"With the publication of The Profound Treasury of the Ocean of Dharma, these seminary transcripts have taken birth as three user-friendly volumes, beautifully arranged and elegantly edited without losing the author's intention or voice.  The volumes offer a glimpse of the heart teachings of the Vidyadhara, given to his students over several years with his uniquely provocative and meticulous style, enhanced by his knowledge of Western epistomology and psychology."—Dzogchen Ponlop Rinpoche, Buddhadharma
Advertisement