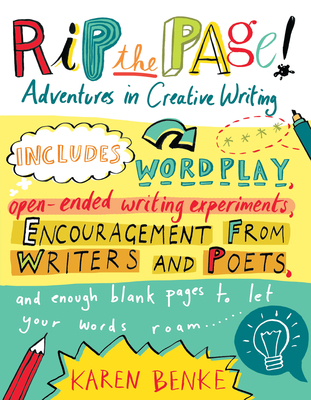 Rip the Page! (Paperback)
Adventures in Creative Writing
Roost Books, 9781590308127, 256pp.
Publication Date: July 27, 2010
* Individual store prices may vary.
Description
Here are the ideas, experiments, and inspiration to unfold your imagination and get your writing to flow off the page! This is the everything-you-need guide to spark new poems and unstick old stories, including lists of big, small, gross-out, and favorite words; adventurous and zany prompts to leap from; dares and double dares to help you mash up truths and lies into outrageous paragraphs; and letters of encouragement written directly to you from famous authors, including: Annie Barrows, Naomi Shihab Nye, Lemony Snicket, C. M. Mayo, Elizabeth Singer Hunt, Moira Egan, Gary Soto, Lucille Clifton, Avi, Betsy Franco, Carol Edgarian, Karen Cushman, Patricia Polacco, Prartho Sereno, Lewis Buzbee, and C. B. Follett.

This is your journal for inward-bound adventures—use it to write, brainstorm, explore, imagine—and even rip!
About the Author
Karen Benke has inspired children—and even a few adults—in the art of creative writing for over twenty years as a Poet in the Schools, writing coach, and visiting author.  She specializes in leading on-the-spot creative writing workshops and has been known to get even the most reluctant writer to reach for a pen.  Her poetry has appeared in many anthologies and national literary journals (Ploughshares, Rattle, Hawaii Pacific Review, Poetry Daily) and her books have been featured in FamilyFun magazine, The San Francisco Book Review, Kids' Book Review (Australia) and elsewhere.  The recipient of two teaching grants from Poets & Writers and residencies from Djerassi Resident Artists Program and Hedgebrook, she runs The Writers Nest and lives north of the Golden Gate Bridge with her teenage son, magic cat Clive, and rescue dog Rasco Roon.  Visit her virtually at www.karenbenke.com.
Praise For Rip the Page!: Adventures in Creative Writing…
"Rip the Page! is an invitation and a feast. Every page springs the imagination into freedom, eagerness, curiosity, the spirit of experimentation, and the power to express the abundant possibilities of both words and world."—Jane Hirshfield, poet and author of Nine Gates: Entering the Mind of Poetry

"Alive with ideas, playful, encouraging, and full of heart, Rip the Page! will help you uncover stories of inner treasure and express them in a fresh new way."—Susan Wooldridge, author of Foolsgold: Making Something from Nothing

 "Rip the Page! is fun, sassy, and zany. It's a great resource for writers of all ages—and for teachers of creative writing—who want to put the zing back in their writing."—Julia Alvarez, author of Return to Sender

"Rip the Page! inspires creativity to flow, sparkle, whoosh, and claim a child's imagination.  Karen Benke uses playful, inviting, inspiring language to form 'hooks' to snag the interest and 'reel in' the imagination of children to write. Great for an individual writer on their own, and wonderful as a guideline for teachers or home-school parents to inspire young hearts."—San Francisco Book Review 

"This collection of exercises and ideas inspires young writers with interesting prompts, friendly encouragement, and suggestions. Realizing that beginning writers often have potential for creativity, yet freeze when faced with the formidable task of constructing a composition, Benke introduces livelihood and fun to the risky process of recording one's thoughts. Working to show kids that not all writing is dry, formal, or plagued by the pressure of getting a good grade, Benke stirs the imaginations of kids, never limiting them."—ForeWord Reviews

"As a writer, I love the way this author brings fun to the experience of writing.Too many kids are scared of writing or bored with the whole exercise. I found many of the exercises to be fun and engaging: the kind that my kids found silly and different. And because they were, they didn't feel like work. This book will do a wonderful job of adding a key element of fun to what can be a challenging part of your homeschooling day."—Practical Homeschooling

"An inspiring, irreverent, and highly accessible book of ideas for writing. This is a riotous celebration of language and the exhilarating joy of words. Great Fun! Recommended for homeschoolers wanting a creative way into language and parents with a household of bored, creative children looking for an outlet on a rainy day."—Juno (UK)