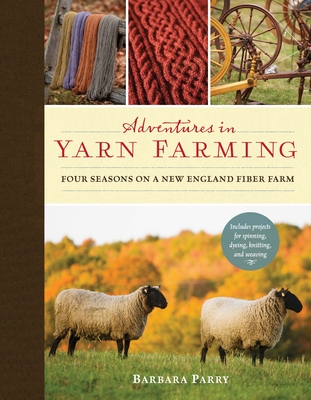 Adventures in Yarn Farming (Hardcover)
Four Seasons on a New England Fiber Farm
Roost Books, 9781590308233, 320pp.
Publication Date: November 12, 2013
* Individual store prices may vary.
Description
A knitting book focusing on the sheep-to-shawl process by a well-known knitter, shepherd, and artisanal yarn producer.

Gain an insider's view on fiber farming and yarn craft, from sheep to skein, all told through the eyes of shepherd and textile artisan Barbara Parry. Follow her flock over the course of a year and discover all the facets of life with sheep: from shearing day and lambing season, to preparing fiber for yarn. Along the way you'll find projects for the fiber obsessed by top knitwear designers, essays on country life, and over 100 stunning photographs. With the growing locavore movement, the rising trend in sustainable farming, and the ever-increasing interest in crafting, this book is perfect for those who yearn for a closer connection to a rural lifestyle and who enjoy making things by hand.
About the Author
BARBARA PARRY raises sheep on her 220-acre Springdelle Farm in western Massachusetts. She and her husband, Michael, keep a flock of 77 sheep, goats, and llamas. Every year Barbara converts hundreds of pounds of her spring wool clip into high-quality yarn and handspinning fiber. She markets her yarns and fibers under her label Foxfire Fiber & Designs and has created a substantial presence, both online (www.foxfirefiber.com) and at major sheep and wool festivals throughout the Northeast. She has worked collaboratively with several well-known designers in the industry. Barbara's diverse background in fiber arts, sheep farming, and yarn production makes her a sought-after speaker for fiber retreats and guild presentations. Barbara regularly chronicles farm life on her blog, Sheep Gal: Notes from a Shelburne Shepherd (www.sheepgal.com). She is also the author of Teach Yourself Visually Hand-Dyeing (Wiley Publishing).
Praise For Adventures in Yarn Farming: Four Seasons on a New England Fiber Farm…
"Visually as well as informatively inviting, Barry's story of her New England farm, particularly how she produces yarn for crafters, will absorb readers regardless of their previous interest in or even exposure to the nearly magical world of yarn preparation."—Booklist, starred review

"Many people dream of ditching it all and starting a farm in the country, but Barbara Parry actually did it. In 1997 she began building a flock of sheep that has since become the foundation of her thriving Western Massachusetts fiber farm. Here she offers a beautiful, vivid portrayal of the life she has chosen. Season by season, she presents a narrative that is dreamy yet concrete, inspiring yet informative, and, always, unblinkingly honest. A must-read for anyone who wants to better appreciate where their yarn comes from."—Clara Parkes

"Parry's skillful hand and gentle heart  are the perfect blend to capture the joys and heartaches of farming in the beautiful Berkshire Mountains."—Linda Cortright, publisher of Wild Fibers magazine
 
"Many of us wool enthusiasts daydream about someday owning a farm, raising sheep, harvesting yarn, and going back to the land. Follow Barbara Parry—a former English teacher who made this dream a reality—on a journey that teaches us all 'about the intangible gains of . . . taking the long road.' "—Jared Flood, knitwear designer and owner of Brooklyn Tweed

"In my very first years of sheep farming—and the resulting shearing, spinning, and knitting that goes along with it—I found myself turning each page slowly, not wanting the education and camaraderie to end. But no matter where you find yourself on the spectrum —farmer, spinner, dyer, knitter, or weaver—you are sure to find inspiration, laughter, and joy in the farm tales that Barbara shares."—Amanda Soule, author of The Rhythm of Family