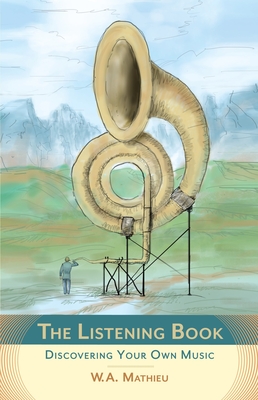 The Listening Book (Paperback)
Discovering Your Own Music
Shambhala, 9781590308318, 192pp.
Publication Date: November 15, 2011
Other Editions of This Title:
Paperback (3/27/1991)
* Individual store prices may vary.
Description
The Listening Book is about rediscovering the power of listening as an instrument of self-discovery and personal transformation. By exploring our capacity for listening to sounds and for making music, we can awaken and release our full creative powers. Mathieu offers suggestions and encouragement on many aspects of music-making, and provides playful exercises to help readers appreciate the connection between sound, music, and everyday life.
About the Author
William Allaudin Mathieu is a composer pianist whose long and varied career ranges from his early work with the Stan Kenton band and The Second City Theater, to his extensive catalogue of song cycles, works for choir, and instrumental concert music. He has recorded extensively, and is the author of The Listening Book, The Musical Life, and Harmonic Experience: Tonal Harmony from Its Natural Origin to Its Modern Expression.
Praise For The Listening Book: Discovering Your Own Music…
"A wise and loving owner's manual for anybody who has ears. Mathieu offers a rare opportunity to re-discover a rich and often neglected channel that links our inner self with the world."—Keyboard Magazine



"A practical and in-depth guide to the vastness of the mysticism of sound. It is also beautifully written. It is poetic, humorous, loving and confrontational—it is filled with the child's curiosity and it is filled with love for life—and it is contagious."—The Sound



"In this collection of short, evocative essays, [Mathieu] offers playful and powerful suggestions for awakening to the music that is always around us and inside us. . . . His infectious passion for the melodies and rhythms of everyday life shimmers on every page."—Yoga Journal



"In this age of the couch potato, squatting bug-eyed at the boob-tube, this is a book on behalf of the unregenerate ear-minded person's protest against the eye-minded majority. . . . Mathieu offers suggestions and encouragement on many aspects of music-making, and provides playful exercises to help readers appreciate the connection between sound, music, and everyday life."—Spiritual Frontiers

"The Listening Book is a true gift for music-makers of any stripe, It offers us not only the insights of a master teacher and the instincts of a great musician, but it radiates with that wonderful quality of a man who wears his soul on his sleeve."—Paul Winter, composer and musician

"The Listening Book is a remarkable and exciting work. An obvious labor of love, every page sings of the joys of life and music. Mathieu's observations and perceptions are insightful, incisive and often startling. This is a book that could change the way we view music, and which would be of benefit to everyone from the casual listener or performer to the professional musician."—David N. Baker, Distinguished Professor of Music and Chairman, Jazz Department, Indiana University School of Music