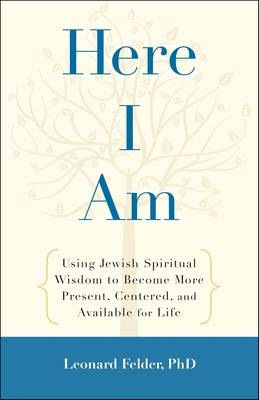 Here I Am
Using Jewish Spiritual Wisdom to Become More Present, Centered, and Available for Life
Paperback

* Individual store prices may vary.
Description
During stressful times, it's easy to get caught up in feeling anxious, tense, foggy, and overloaded. Here, a popular psychologist shares easy-to-use techniques for managing and rebalancing these emotions and helps you to find your calm, strong center. Dr. Leonard Felder draws from his work with clients over the last thirty years, and incorporates traditional Jewish prayers and blessings that have been used for centuries to refocus the mind. The author has a long history of multi-faith counseling and dialogue and has made these stress-management practices resonant with people of all religious backgrounds who are looking for more awareness, clarity, and calmness when faced with stress-related emotions.

In this book you'll learn how to:

   • Regain your equilibrium when you feel pulled in too many directions
   • Outsmart your moody, anxious brain
   • Know when to intervene and when to let go in a situation
   • Respond with wisdom when someone treats you harshly
   • Find inner quiet and peace when you feel agitated
   • And much more

In each chapter, Felder includes examples drawn from his client's experiences and explanations from mind-body psychology and neuroscience to support the effectiveness of this kind of mindfulness practice.

Click here to view this book's Discussion Guide.
Praise For Here I Am: Using Jewish Spiritual Wisdom to Become More Present, Centered, and Available for Life…
"This book will help people. Dr. Felder finds useful responses to modern problems in ancient wisdom."—Rabbi Harold Kushner, author of When Bad Things Happen to Good People

"Dr. Leonard Felder has a marvelous talent for illuminating profound wisdom teachings in a way that readers can understand personally and bring into their lives to nurture and deepen their own spiritual practices."—Rabbi David A. Cooper, author of God Is a Verb  

"I always feel warmly about self-help books that suggest things I'm tempted to try. Leonard Felder's simple, engaging book on using Jewish spiritual techniques for stress relief falls into that category for me. As a self-help book on stress management for Jews and non-Jews, Felder encourages readers to fill in whatever terms they wish for 'God' and 'soul' and provides lots of alternatives; but for Jews who are comfortable with these terms, this book offers a double reward—both as a mindful therapeutic practice and as a way of reconnecting to Jewish prayer."—Reform Judaism magazine
Trumpeter, 9781590308448, 192pp.
Publication Date: August 30, 2011
About the Author
Leonard Felder, PhD, is a licensed psychologist in West Los Angeles who has written twelve books on personal growth that have sold over one million copies. He leads discussions and workshops throughout the country at both synagogues and churches, and numerous interfaith events. He has also appeared on over 200 radio and television programs, including Oprah, The Today Show, CNN, The CBS Early Show, NBC Nightly News, National Public Radio, Canada AM, and BBC London.
or
Not Currently Available for Direct Purchase